Lawyer's farming dreams turn barren lands into lush greens
HR Jayaram has quit his practice to take up organic farming full time.
He now runs the 40-acre Sukrishi farms, a shop, a cafe and a hotel.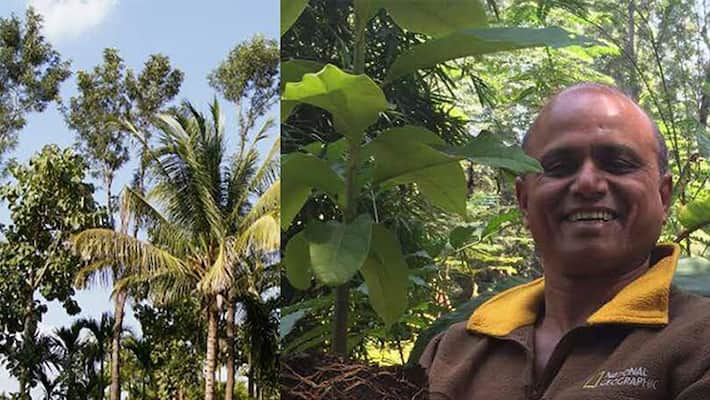 Taking up just a few cases in the Bangalore High Court would have earned him sufficient money for months, but HR Jayaram has quit his practice to take up organic farming full time.

Born in an agricultural family, as a young boy Jayaram was interested in farming and drew a lot of inspiration from his mother. As he was good in studies, he was sent to Bangalore for his education in 1972. He graduated with a BA LLB and became a very successful lawyer. Though he had a roaring profession, he always wanted to go back to his roots and start farming.

In 1998 when the urbanisation in Bengaluru began to increase, Jayaram decided to go back to his roots and began to work in the fields in his village near Hognekal, on the outskirts of Bengaluru. He initially used chemicals to grow crops. Although the yield was satisfactory, he noticed that the durability of the harvest was stunted. At the same time he came across a book which listed the ill effects of chemical-based farming and alternatives to such practices.
From then on he started to work on organic farming. Jayaram later shifted to Nelmangala and bought about six acres of barren lands and converted them into high crop-yielding areas. He slowly he brought 40 acres of land converted all of them into farm land, naming his lands as 'Sukrishi' - which means organic agriculture.

The Sukrishi farms are spread across 40 acres of lush green, serene landscape. It is home to a variety of crops and trees and also birds and animals. Innovative practices are implemented here like the use of biogas and rainwater harvesting. It has three man-made lakes which serve for the rainwater harvesting. 
The crops here are grown organically using harvested rainwater. The practice here is to have multi-crop systems - where a number of crops are grown and follow a smart system for planting crops. For example, making use of sunlight to the maximum extent by planting cocoa under a coconut tree. 
The farms have also adopted scientific processes in terms of having the best rainwater harvesting system, building innovative collection pits, bunding, live fencing along with mulching of farm waste in a unique combination.
"Usage of any pesticides or insecticides is avoided as the belief is that nature has its way of protecting its creations," said Jayaram.

Jayaram who found takers for his organic product in Bengaluru, hit up the idea to bring all his product under one roof and set up the Green Path Foundation in a 2,000 sqft area in 2007 at Malleswaram. 
The complex houses the Organic store, a detox cafe and a restaurant. The customers are given pamphlets with details about organic farming and its health benefit. 
 
Jayaram also opened up Eco-hotel in Dollars Colony in Bengaluru. The hotel has 55-room facility which attracts guests from all over the world. Eco-hotel implemented rainwater harvesting, even when it was not mandatory by law. 
"We don't buy or sell any water for usage. Best energy conservation practices like coconut shells are used to heat water along with solar panels. The building does not have centralised AC – instead, it has abundant natural lighting and air circulation as it is surrounded by lots of trees. The food served here is entirely organic, and all toiletries are eco-friendly."

This is one case Jayaram has certainly won. 
Last Updated Mar 31, 2018, 6:40 PM IST