Jayalalithaa close aides in trouble?
Rama Mohana Rao was appointed as TN chief secretary by Jayalalithaa in 2015
Previously, he had worked as Jaya's secretary
Rao's suspension comes after the IT raid
He has only seven months for his retirement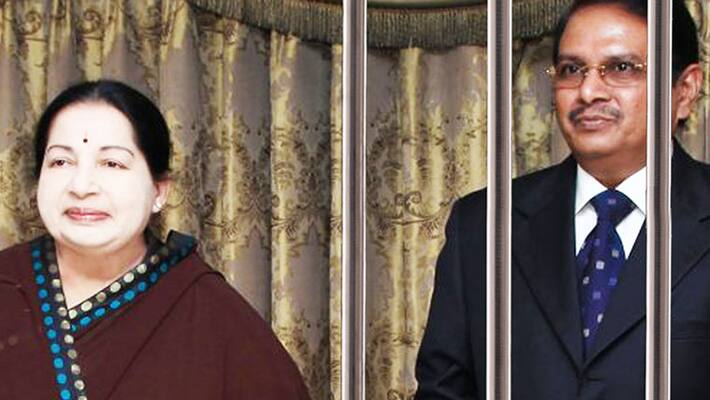 Girija Vaidyanathan, Additional Chief Secretary and Commissioner of Land Administration has been appointed as Tamil Nadu's new chief secretary. She will also hold additional charges of Vigilance Commissioner and Commissioner for Administrative Reforms.
Jayalalithaa had won the Assembly election on May 16 in 2011 and took oath as the Chief Minister for the fourth time. On the same day, she appointed Rama Mohana Roy as her secretary in her office. He was made the chief secretary of Tamil Nadu after Jayalalithaa won the election in 2016.
Also Read: I-T raid on Tamil Nadu chief secretary: Is AIADMK in trouble?
Just 15 days after Amma took the oath of the office of chief minister, on June 8, she appointed her secretary Rama Mohan Rao as the state's chief secretary. Later, he became popular as 'shadow chief minister'.
To facilitate Rao, K Ganadesikan was suspended from the chief secretary's post, without any solid reasons. Meanwhile, Rao was appointed for the top post after superseding 17 senior officials.
Sources said that Rao had overseen all transfers of IAS officers and top bureaucrats. He also had his influence in all the major contracts awarded to the state.
Unfortunately, Rao, who has just seven months after his retirement, made headlines again when around 100 Income Tax officials raided his house on Wednesday (December 21). The search was conducted for 24 hours, and the IT sleuths have reportedly recovered ₹30 lakh in cash in new notes, 5 kg gold. They have also found a disclosure of ₹5 crore of unaccounted income.
Thus, though his appointment as a chief secretary came as a surprise, the IT raids were anticipated as now his mentor is no more.
However, this can be told as the first jolt to the AIADMK after Jayalalithaa's death. Even though the AIADMK is all set to name Sasikala as their chief, she is not acquitted in the ₹58 crore disproportionate assets case.  She is currently awaiting orders on appeal in the Supreme Court.
Also Read:Dispropotionate Assets case still haunts Sasikala
Now, after Jayalalithaa, will the AIADMK cronies fall like a house of sand?
Last Updated Mar 31, 2018, 6:55 PM IST