Good news: 22 holidays lined up for next year!
The Karnataka government has announced the list of 22-day holiday for the year 2017
Have a look at the list of holidays
All government schools, colleges and offices will have holidays on 22 days in the next year. However, Mahaveer Jayanti and Muharram have been excluded from the list as they fall on Sundays.
As dates for the festivals celebrated by Muslims cannot be fixed to a date, holidays will be re-announced accordingly.
People of Kodagu will get leaves on Tula Sankramana (October 17) and Huttari (December 4).
In addition to the declared holidays, government staff will also have 17 conditional holidays.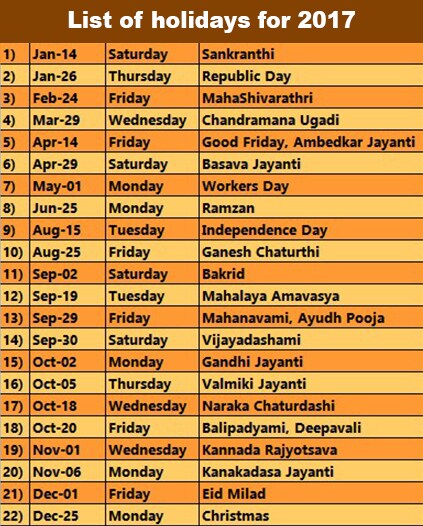 Last Updated Mar 31, 2018, 6:59 PM IST