Tejasvi Surya delivers first speech in Kannada in Lok Sabha, gives credit of 'New India' to PM Modi
From 2014 to 2019, nothing changed including the Constitution, but what changed was the leader, said Tejasvi Surya giving the credit of the change in India to PM Narendra Modi.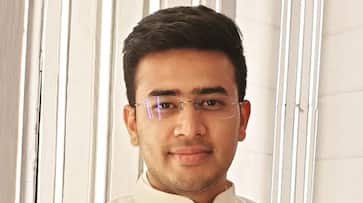 Bengaluru: Bengaluru South MP Tejasvi Surya delivered his first speech as the people's representative in Lok Sabha.
28-year-old Tejasvi Surya is a novice to politics and he contested against Congress' veteran leader BK Hariprasad and defeated him by 3,31,192 votes.
Addressing the Lok Sabha, he spoke of New India and gave the credit of bringing transformation in the country to PM Narendra Modi.  
Surya said, "PM Modi has radically transformed the country's electorate. From an auto driver who NaMo on the back of his vehicle to the IT guy to NRI who are in different time zones, but supporting the prime minister. Common man in India felt that victory of prime minister is the victory of new India. "
"From 2014 to 2019, one of the greatest transformations that have taken place in the country is that the country's political quotient has tremendously increased," he added.
Lashing out at Congress, he said, "Opposition's fake news, oppositions lies, propaganda fell flat. Youngsters of today do not believe in the narratives crafted by some editors, but they write, speak and edit what they want on their own because today the social media has given a democratic platform."
Addressing the issue of development, he said, "In the social science books we were reading that India is a developing country from 60 years. A sense of frustration, a sense of anger when other countries much smaller in size than us were galloping fast and developing why was it that our country was not progressing in the same phase."
Slamming Congress of patronising dynasty politics, he said, "Foundation for building a new India started which respects performance over pedigree, elects its leaders on the basis of what they deliver and not on the basis of surnames they have next to their names."
Speaking about the Constitution, he quoted Baba Saheb Ambedkar, "I feel however good the Constitution may be, it is sure to turn out bad because the people who were called to work on it happened to be a bad lot. However bad the Constitution may be but it may turn out to be good if the people who were called to work on it happened to be a good lot."
Last Updated Jun 26, 2019, 12:31 PM IST