Rain Havoc: 90 electricity poles uprooted, Bengaluru in darkness
Trees have fallen down in various places due to heavy rains

A house and a car left damaged in Vidyaranyapuram

Temperature in the city has come down by 3 degrees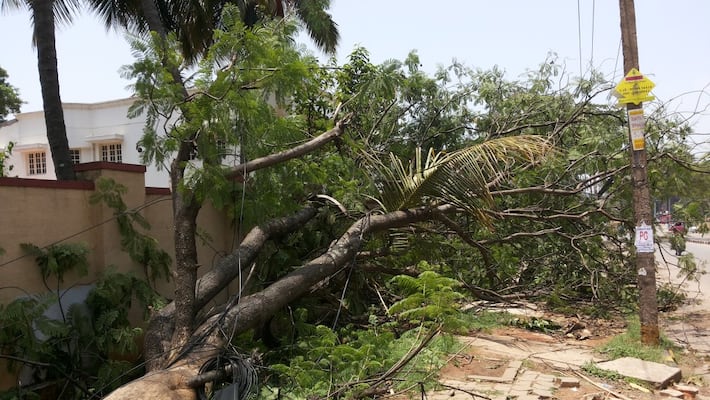 90 electric poles and 8 trees, including several heavy branches have fallen down in various places due to heavy rains that hit Bengaluru city on Wednesday, May 2. The roof and compound wall of a house in Vidyaranyapuram have been damaged, after which a car parked in the same locality was found damaged too.
The  thick clouds formed in the evening were followed by heavy rains in the north and eastern sides of the city, while other areas received light rains. Yalahanka received massive downpours, with atleast 5 trees being uprooted. More than 80 electric poles, and more than 40 trees have fallen down in the  5th cross in Narasipura layout, Vidyaranyapuram , Nyayanga  layout, Sampige halli, rare gate of  GKVK, and Maruti Nagara.
In addition to this, one tree in BTM layout, behind the Viresh talkies on Magadi road, Vaiyalikaval road was uprooted too.
Meanwhile, there was traffic congestion on Tumkur road in Yashvathapura, Gorogontepalya, Ballaari Road in Hebbala, Kodigehalli Gate, Dairy circle in Hosur road, Shathinagar Bus stand and several other localities in the city.
Last Updated May 3, 2018, 6:28 PM IST