Mosquito menace: Over 1,000 dengue cases in Bengaluru but doctors suspect more
At a time when the cases of dengue and mosquito-related illnesses are seeing an all time rise, the Bruhat Bengaluru Mahanagara Palike (BBMP) has registered about a 1,000 cases while doctors suspect more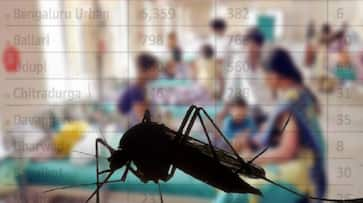 Bengaluru: The Bruhat Bengaluru Mahanagara Palike (BBMP) has said that it has registered a total of 1,041 cases of dengue in the first six months of 2019. However, doctors are of the belief that the numbers could be much higher.
It also must be noted that the anecdotal evidence from clinics and nursing homes speak about a large number of patients being diagnosed with similar mosquito-borne diseases.
Dr Sudarshan Ballal, nephrologist and chairman of Manipal Hospitals, Bengaluru spoke to Asianet Newsable and said that there is definitely a rise in the number of cases of mosquito-borne and dengue-related illnesses.
"If we take a look at the number of cases last June and compared it with this June, there is definitely a rise in the numbers," stated Dr Ballal.
He further added, "BBMP has their own way of reporting such cases but we definitely see a rise of mosquito population."
Dr Ballal also said that for every reported case of dengue there are at least a 100 that go unreported.
Just in the past two months, the BBMP has stepped up its awareness campaign and has even conducted surveys. The civic body has identified areas where the dengue virus is spreading rapidly.
When asked Dr Ballal if these were effective measures, he said, "Of course, creating public awareness is a good thing and we need aggressive campaigns and measures such as fogging."
Asianet Newsable also questioned about the side effects of inhaling the fog to which Dr Ballal said, "There may be certain adverse effects but it is either that or being bitten by mosquitoes. We've had cases where people have been admitted for mosquito bites not for inhaling fog."
Recently, the BBMP commissioner N Manjunath Prasad directed all officials to ensure that there was no stagnant water in the corporation limits.
Last Updated Jul 5, 2019, 11:39 AM IST