Bengaluru: Pourakarmikas protest after 'offensive statement' by official
Pourakarmikas staged a protest near Bengaluru's KR Market on Tuesday after assistant conservator of forests Harshvardhan PN made an "offensive statement". The protest was called off after the official apologised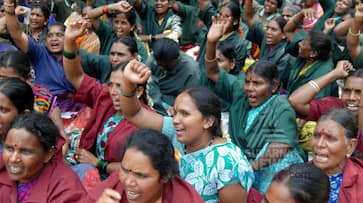 Bengaluru: In order to 'sensitise' Bengaluru's pourakarmikas to the bad odour emanating from the garbage near Vengayyana Lake, the assistant conservator of forest, Harshvardhan PN, said that the civic workers can be compelled to eat there. 
Agitated, the pourakarmikas staged a protest near Bengaluru's KR Market on Tuesday. The official apologised, following the protest.
The protest was reportedly called off after he apologised, reports said.
The IFS officer had stated that the pourakarmikas working near Vengayyana Lake should be made to eat lunch near the entrance to "sensitise them about the bad odour emanating from the garbage in the area." He stated this ironically to make them realise their responsibility to keep the surroundings clean.
Incidentally, segregating waste is not a pourakarmika's job. It has to be done at the household level. However, they are compelled to do it as it is currently not done at the source level.
Following the offensive comment several pourakarmikas along with the All India Central Council of Trade Unions (AICCTU) took to protesting yesterday.
A civic worker, Maheshwaramma, reportedly said that they are treated badly and that they suffer a lot. She also said that all they are asking for is to be treated with some respect.
The pourakarmikas go through the waste brought in by the truck every morning and segregate them. They have to endure difficult conditions and the foul odour during their work.
Earlier, the pourakarmikas had protested for months as their salaries had been pending for several months.
Last Updated Jul 10, 2019, 3:55 PM IST