Bengaluru Police seize ivory tusks; smugglers arrested
Based on the credible information, Bengaluru Police nabbed two wildlife smugglers from Tamil Nadu who had come to sell two ivory tusks. The police along with the informants posed as buyers and caught them red-handed in Banaswadi police limits.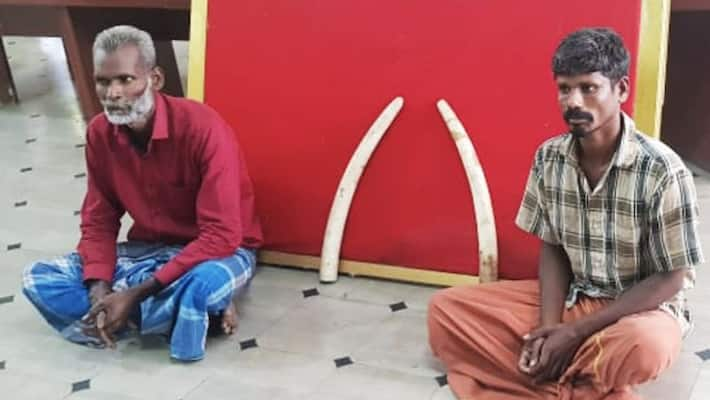 Bengaluru: Bengaluru police nabbed two wildlife smugglers for trying to sell two ivory tusks.
Police say that these smugglers are from Tamil Nadu and had transported two ivory tusks from an elephant in Kodaikanal forest range.
According to police, 35-year-old Muruganandan alias Dandapani from Dindigul District, Tamil Nadu and 60-year-old Balu alias Karupaiah from Theni district, Tamil Nadu were arrested in HBR Layout.
"The main accused Murugan who found the ivory tusks in the forest range approached Balu and Muruganandan to find potential buyers. Informants got news of this and reached out to police. They also posed as buyers and asked the accused to come to Banaswadi area on February 6. The police then caught the duo red-handed. However, Murugan is still at large. A sub-inspector along with a team from Banaswadi Police have left for Tamil Nadu to find the main accused," said senior police officer.
A case under section 9,39,40,44,48(a),49(b)(c), 51 of the Wildlife Protection Act has been filed against the arrested persons.
According to sources, smugglers have been very active in Tamil Nadu recently, and try to sell the items, mainly in Bengaluru as they deem it to be a more profitable market.
Last Updated Feb 8, 2019, 12:34 PM IST