Bengaluru Metro service to start at 7 AM on Sundays from January 13
Many passengers boarding the Bengaluru Metro from Majestic and Yeshwantpur wanted BMRCL to start metro train service at 5 AM on Sundays. But BMRCL has agreed to start the first metro at 7 AM instead of 8 AM on Sundays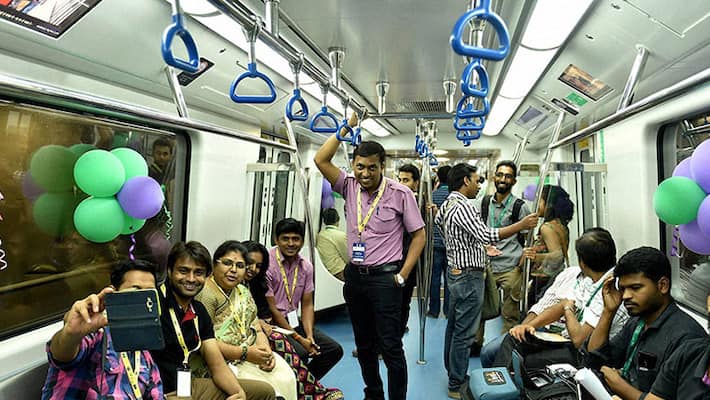 Bengaluru: The Bengaluru Metro service starts at 8 am on Sundays. But considering the requests from the public, the Bangalore Metro Rail Corporation Limited (BMRCL) has decided to start the first metro at 7 AM on Sundays.
The information was given by BMRCL PRO Yeshwanth Chavan, who said that the metro train services will begin at 7 AM on Sundays instead of 8 AM from January 13 (Sunday) onwards.
Many passengers had written to the BMRCL requesting to start the first metro train at 5 AM on Sundays. But as the authorities felt it was too early and the timings may not attract as many people on weekend, they decided to go with 7 AM.
Most of the people coming from Majestic and Yeshwantpur had complained that they have to wait for long hours on Sundays to board the metro. As both Majestic and Yeshwantpur metro stations are near railway stations, many people coming with luggage from other cities reach Bengaluru early in the morning, but have to wait for hours to catch the metro.
But the BMRCL also had to consider enough time for maintenance of the trains. Thus, every day as the last train is at 11 PM, by the time train arrives at the depot after duty is 1 AM. Thus, the authorities wanted to make sure that there was sufficient time for the regular maintenance work on metro trains.
Though they could not comply with the request of 5 AM metro on Sundays, the trains will start one hour early, at 7 AM from tomorrow (on Sundays). On other days, train service starts at 5 AM.
Last Updated Jan 12, 2019, 12:33 PM IST