Bengaluru's 13 'dangerous traffic zones' claimed 425 lives in 2018
Among 44 traffic police stations in Bengaluru, 13 continue to witness high number of deaths every year. Hence the motorists should be aware and avoid these 13 'deadly zones'. Out of 684 accident-related deaths, a whopping 425 have been reported from these 13 stations alone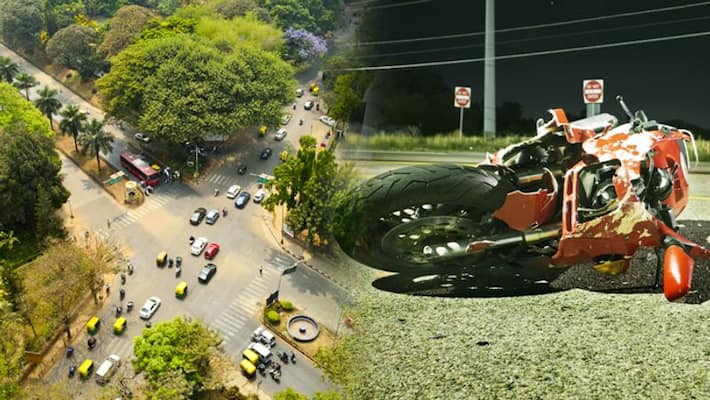 Bengaluru: The motorists should exercise caution in 13 Bengaluru traffic police limits as these 'deadly zones' have reported 425 accident deaths out of total 684 in 2018.
According to the data from Bengaluru Traffic Police (BTP), Yelhanka (48 deaths), Devahanalli (45), KR Puram (43), Chikkajala (39), Kumaraswamy Layout (35), Hebbala (33), Hulimavu (33), Electronic City (29), Old Airport (26), Kengeri (25), Whitefield (24), Peenya (23) and Kamakshmipalaya (22) traffic police stations reported high accident-related deaths.
As per the observation from the Bengaluru traffic police officials, it is the negligence of drivers like overspeeding, riding without a helmet, triple riding, drag racing, wheeling are the major cause of such accident deaths. Apart from motorists, innocent victims like pedestrians and cyclists are also hit and killed.
"Over 60% victims are two-wheeler riders and to avoid such accidents, the traffic police have put roads humps, speed detectors, barricades, and more men at these junctions," said Mehboob Pasha, Yelahanka traffic inspector.
The police say the motorists should be very careful and vigilant while riding or driving on the roads, especially in these 13 police station limits as there is outer ring road and many big vehicles keep moving fast. Doing stunts and causing nuisance not only a risk on themselves but also on others lives, the police said.
Mobility expert from Indian Institute of Science (IISc), Ashish Verma, said even in their study, the experts find two-wheelers as the major cause of concern as they tend to be more vulnerable.
"The behaviour of many such riders is questionable as they tend to break every rule in the traffic book and licensing authorities should be more careful and become stringent while issuing documents. Apart from the two-wheelers, even pedestrians and cyclists suffer due to the negligence of the motorists. Hence people should be careful while approaching such roads," said Verma.
Last Updated Feb 4, 2019, 12:45 PM IST