Demonetisation: What Modi said vs Ground Reality
Report on Day 13 of the currency ban in India
Lack of communication from the top causing public inconvenience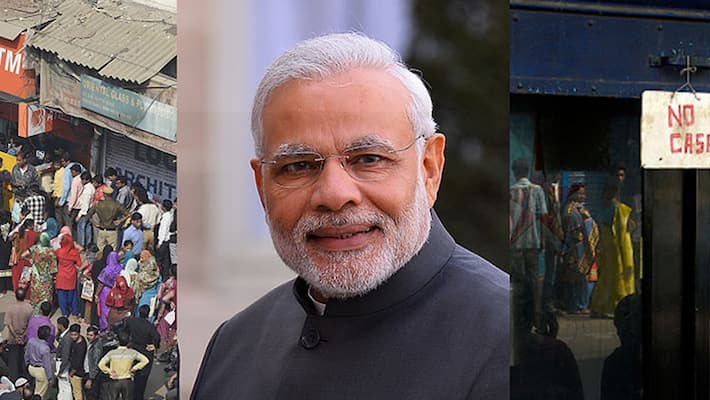 What Modi government said:
Modi said people holding notes of ₹500 and ₹1000 can deposit the same in their bank and post office accounts from November 10 till December 30.
Reality: The inconvenience is massive. While initially the public welcomed the move, it took two -three days of standing in line in front of banks and ATMs for hours to realise what they were facing. Employees of all sectors, private, public and unorganised found themselves worrying about bill payments and other emergency payments.  Despite standing in line for over 3-4 hours, they were being denied money as banks had run out of money to give as well as their stocks of the new currency had run out. People had to choose between office and standing in lines. Clearly the chaos that followed was not expected and normal people were left feeling criminalised.
What Modi government said:
Bank ATMs across the country will start disbursing new high security ₹500 and ₹2,000 currency notes from Friday November 11
Reality: Introducing the new currency notes into circulation needs the reconfiguration of the country's 220,000 cash machines so that they can dispense the new ₹500 and ₹2,000 notes. Another technical glitch is that these notes are too thin and small to fit on the existing tray and officials concerned  say the recalibration of these machines will take close to a month and till then the public will continue to see maximum ATMs in the country with the 'no cash' signboard. People are unable to withdraw cash because of the unavailability of the same and many private banks are still not equipped with the new technology. So where is synchronisation on this matter? The date mentioned to the public was November 11, only a handful of ATMs in the country have money and some only have ₹2000 notes and no ₹500 notes.
What Modi government said:
From November 14 you can withdrawal up to ₹2.5 lakh in cash from the bank for weddings.
Reality: Banks will start with this operation only next week after receiving operational guidelines from the RBI, even though the Centre announced the relaxation earlier. Puran Gusain, a resident of Sector 47, visited the Majra branch of Allahabad Bank, twice to confirm if he would get to withdraw ₹2 lakh for his son's wedding on November 24, but in vain. The bank neither has enough cash nor has implemented the new norm – Tribune India. Most banks have failed to implement the guidelines as these claimed that no notification had been received from the RBI so far.
What Modi government said
Given the long queues at ATMs, select fuel pumps of state-owned oil companies will be keeping machines that people can use to withdraw up to ₹2,000 using their debit cards. There are 2,500 such pumps across the country — all of them use SBI's point-of-sale machines. Other banks will also join soon
Reality: Many people who rushed to the petrol pumps found that the scheme was still on paper. According to a report in TOI yesterday, random checks at state company-run petrol pumps in Ahmedabad, at Manav Mandir, Vastrapur lake, Mansi Crossroads, Jodhpur Crossroads and even CG Road, drew this same answer, "We haven't received the machine yet and hence cash cannot be paid out." This has been the fate of most petrol pumps across the country and again only a handful of these pumps are able to assist people. Many petrol pump owners even two days after the directive was issued were still clueless about it and some said since they don't have the SBI POS machine they are unable to dispense cash.
What Modi government said
There are certain expenses you can still meet using scrapped ₹500 and ₹1,000 till November 24. These include payments towards bills for water and electricity, fees, charges, hospital bills, taxes and penalties payable to central and state governments (including civic bodies).
Reality: This exemption does not bring in private hospitals, which has been the biggest worry for many patients. Did the PM think that patients will only go to government hospitals for treatment and emergencies? Here's one news that highlights what this exemption has done  - An infant girl died at Ruby Hall Clinic Hospital in Pune on Sunday after she was allegedly refused treatment by a prominent hospital for her heart condition, apparently over the issue of payment in demonetised currency notes. In Vizag, an 18-month-old girl died after her parents didn't have enough ₹100 notes to buy her medicines and that was because they were unable to secure cash.
Last Updated Mar 31, 2018, 6:36 PM IST