Thyroid in children: Expert highlights the importance of early detection
Asianet News spoke to Dr Sameera S Rao, Pediatrician and Neonatologist, at Motherhood Hospitals, who provided key insights into the symptoms of thyroid hormone deficiency in children, and what parents must do.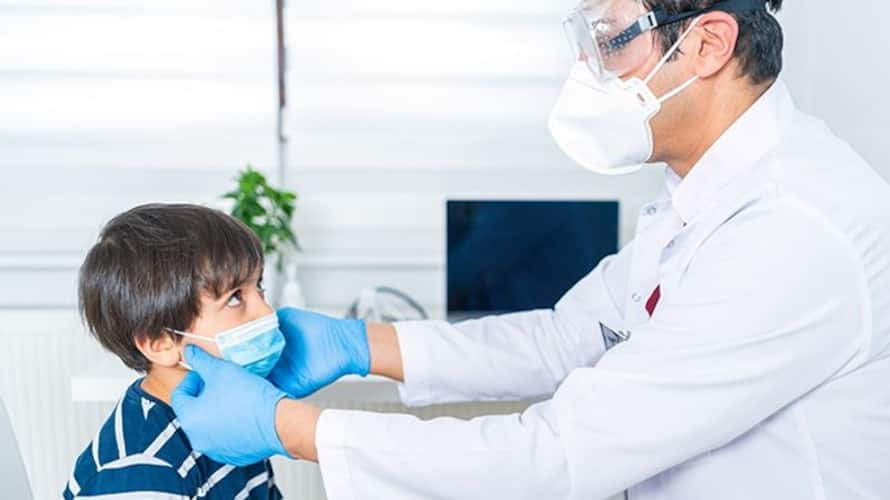 Thyroid hormones play a vital role in cognitive development in children. Perinatal (the time shortly after birth) thyroid hormone deficiency leads to significant developmental impairments, which can cause concern among children. The most prevalent thyroid disorder in children is hypothyroidism, a condition in which the thyroid gland is not generating enough thyroid hormone. If the disorder is present at birth, it is called congenital hypothyroidism. Hypothyroidism can also be detected later in life, and this condition is more common in adults.
Thyroid hormone deficiency causes symptoms such as sluggish neurological development, poor growth reduced physical activity, and poor school performance. 
Causes of hypothyroidism in children
Thyroid gland development starts early in pregnancy and moves to its normal position in the neck by eight weeks. Congenital hypothyroidism occurs when the thyroid gland does not develop properly ( dysgenesis) , the gland is located in the wrong position (ectopic) or fault in thyroid hormone production (dyshormonogenesis). 
An autoimmune response is the most prevalent cause of acquired hypothyroidism. This is the process through which body's immune system gradually attacks and kills the thyroid gland.
Family history too, can play an important factor and may become hereditary for the kids This can give rise to congenital hypothyroidism. Additionally, if the family has a history of autoimmune problems, that too can impact the thyroid's ability to function properly. If the mother had undergone treatment for thyroid disease during the pregnancy, this too can impact the newborn's thyroid, possibly making it vulnerable to hypothyroidism. 
Diet deficiency in iodine is another cause of hypothyroidism in children; this usually goes overlooked as it doesn't typically overlap with medical history. 
Also Read: A glance at snacking recipes which are essential for post-gymming
Symptoms of hypothyroidism in small children:
· Cold and dry skin
· Lack of activity and low energy levels 
· constipation 
· A delay in tooth development 
· A large tongue/ Fontainebleau
· Prolonged jaundice
· Feeding problems
Symptoms of Hypothyroidism in teens:
· Having a hoarse voice
· Sudden weight gain
· Droopy eyelids
· Slow speech
· A delay in the onset of puberty
· Swelling of their face
The following classes of children are at risk of developing thyroid disorders:
· Those who are type 1 diabetics
· Children with celiac disease
· Children who faced radiation to their head and neck 
· Children with Down syndrome or Turner syndrome
· Family history of hypothyroidism 
Diagnosis and Treatment
For children, their symptoms and medical history will be discussed with the healthcare practitioner. The doctor may also check for a family history of the thyroid to investigate the case better and then also examine your child physically. 
Screening at birth: Screening all newborn babies soon after birth is recommended with either the blood test or heel prick test. Screening aims to diagnose the problem early which otherwise get missed until the child is several months old. Starting treatment within two to three weeks from birth is known to prevent significant long-lasting problems.
Blood tests: To evaluate your child's thyroid hormone levels, especially the hormone T-4, TSH levels are done in older children with a suspected thyroid disorder
Also Read: Planning for pregnancy? Check out your thyroid and hormone's health before trying
Imaging: A scan of the neck is done to check the size and proper position of the thyroid gland. Other special scans could be required to check ectopic thyroid and it's proper functioning.
Others: A hearing screen test and its regular follow-up is recommended as hypothyroidism is associated with a hearing problem. In suspected autoimmune thyroid disorder, further tests are required to diagnose other diseases like diabetes, celiac etc.
Children may need the services of a paediatric endocrinologist, a doctor who has received further training in treating kids with hormone disorders.
Therapy aims to normalise hormone levels and promote normal development and growth. Treatment may involve administering thyroid hormones to boost hormone levels in the body. Some children may need hormone therapy for the rest of their lives. During therapy, your child's blood will be checked frequently by his or her healthcare professional. This will assist in determining if the therapy is effective.
Last Updated Jan 29, 2023, 7:30 AM IST