Numerology Prediction for October 25, 2023: Here's what you can expect today as per your birth number
Here is what the stars have in store for you on October 25, 2023, as per your date of birth. Check out the predictions by Chirag Daruwalla. Read and share with your friends.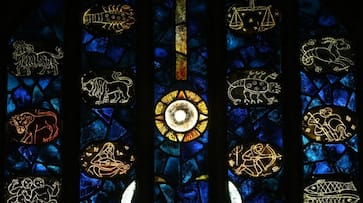 Number 1 (People born on 1, 10, 19 and 28 of any month)
Ganesha says planetary conditions are auspicious. Correct your transactions at this time and mistakes made in the past. You are also working on this. This kind of effort will lead to a surprising improvement in relationships with people. Don't waste your time in wrong fun and outdoor activities. Because of this you will not be able to perform your personal tasks properly. Do not ignore the elders of the house. From a business point of view, there is a slight positive change in the planetary condition. There can be proper harmony between husband and wife. Take any throat infection seriously.
Number 2 (People born on 2, 11, 20 or 29 of any month)
Ganesha says the planet pasture will be positive. Stuck tasks will gain momentum. Meeting with distinguished people will bring benefits and respect so that your efficiency will also improve. Stay away from selfish friends. Their wrong advice can lead you astray from your goal, leaving someone frustrated. So build a relationship with outsiders only after evaluating their personality. Strengthen your business contacts. Focus on your work with the help of family. Excessive workload can cause headaches.
Number 3 (People born on 3, 12, 21, 30 of any month)
Ganesha says the house will have a festive atmosphere with the influx of guests. At this point your confidence is building new success for you. Strengthen contact with reputable people. As the source of income grows, so will expenses which can make the economic situation worse. So it is important to keep a budget. Also control your anger and ego. Bring a little change in the internal system of business related activities. The family atmosphere will be happy. Any problem related to blood may arise.
Number 4 (People born on 4, 13, 22 or 31 of any month)
Ganesha says today you are planning to complete every task with full effort. Your dedication and hard work will also give you the right result. The cooperation of a close friend will boost your courage. If there is a political or court case going on, be careful today. Talking about it can be stressful. Your presence in the workplace will be required. There will be an atmosphere full of family cooperation and happiness. Depression will be due to not paying attention to all your activities.
Number 5 (People born on 5, 14, 23 of any month)
Ganesha says time is favourable. You will feel as if you are receiving a blessing from a divine power. Not much profit is possible but you will be able to balance your budget. Instead of panicking in the opposite situation, try to find a solution. You will be able to fix the situation with your morale. There will be good harmony in marriage and business life. Health can be good.
Number 6 (People born on 6, 15 or 24 of any month)
Ganesha says suddenly there will be a happy atmosphere in the house with the arrival of a close relative. There will also be positive things. Students will feel relieved if any obstacles related to their studies are removed. Avoid false controversy. There can be tension over an inherited dispute. You try to change your sceptical nature. You will have complete control over business activities. Ignore family big and small things. It is not appropriate to be negligent due to the current negative environment.
Number 7 (People born on 7, 16, and 25 of any month)
Ganesha says contribute to activities related to the society. This will increase the range of public relations along with your popularity. There will also be meetings with a few diplomats. There is a need to be very careful in financial matters. Also, do not trade with anyone. Don't try to avoid any work, A new plan and success in business will come in front of you. Love relationships can get family consent. There will be a state of laziness due to change in the environment.
Number 8 (People born on 8, 17 and 26 of any month)
Ganesha says there may be a few religious or spiritual programs at home. So that you will experience positive energy, your theoretical point of view will honour you in the society. Dominating old negative things can lower your morale. Keep your temper positive. Focus on the current situation. At this time there will be income as well as expenses. Lack of harmony in the family can lead to stress. Eating stale food can cause liver problems.
Number 9 (People born on 9, 18 and 27 of any month)
Ganesha says it can be an important task for children. The home will have a relaxed and pleasant atmosphere. Take full advantage of this beneficial planetary position. Your discretion and idealism will earn you respect at home and in society. It is also necessary to be pragmatic. Being overly idealistic can be detrimental to you. The mood today can be a bit distracting. Business activities that have been slow for some time will pick up speed today. Husband and wife together think about the dispute regarding children and home-family. Digestive problems can arise.
Last Updated Oct 25, 2023, 1:05 AM IST