Kerala Day 2023: Wishes, quotes, messages in Malayalam to share on WhatsApp, Facebook, Instagram
Kerala Day celebrated on November 1, is an opportunity for the people of Kerala to come together, celebrate their culture and heritage, and reflect on the progress the state has made since its formation. It's a day of unity, cultural expression, and pride for the residents of "God's Own Country." Check out the Kerala Piravi wishes in Malayalam.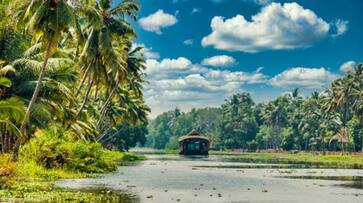 Kerala Day, also known as Kerala Formation Day or Kerala Piravi, is an important annual event celebrated in the Indian state of Kerala on November 1st. It commemorates the formation of the state of Kerala on November 1, 1956. The state of Kerala was created by the States Reorganization Act of 1956, which reorganized the political boundaries of India based on linguistic and cultural factors. Kerala was created by merging the Malayalam-speaking regions of Travancore, Cochin, and Malabar. The Kasaragod region, which was part of the Madras Presidency, was also integrated into the new state.
Send these Kerala Piravi wishes in Malayalam to your loved ones:
- എല്ലാ മലയാളികള്‍ക്കും ഹൃദ്യം നിറഞ്ഞ ''കേരള പിറവി ആശംസകള്‍''
- നമ്മുടെ സ്വന്തം കേരളം - ആദരമുള്ള കേരളദിനാശംസകൾ.
- കേരളം - സ്വന്തം നാട്, സ്വന്തം സംസ്കൃതം! കേരളദിനാശംസകൾ.
- "നമ്മുടെ കേരളം, നമ്മുടെ അഭിമാനം  - കേരള ദിന ആശംസകൾ!"
-സമൃദ്ധമായ പച്ചപ്പിന്റെയും ശാന്തമായ കായലിന്റെയും ഊഷ്മള ഹൃദയങ്ങളുടെയും നാടിന് കേരളപ്പിറവി ആശംസകൾ. നമ്മുടെ സംസ്‌കാരവും പൈതൃകവും ഇനിയും വളരട്ടെ.
- നമ്മുടെ വേരുകളെ വിലമതിക്കാനും നമ്മുടെ പാരമ്പര്യങ്ങളെ ഉൾക്കൊള്ളാനും നമ്മുടെ സംസ്ഥാനത്തിന്റെ സൗന്ദര്യം ആഘോഷിക്കാനുമുള്ള ദിനമാണ് കേരളപ്പിറവി. കേരളദിനാശംസകൾ!
-രാജ്യത്തെ ഏറ്റവും മനോഹരമായ സംസ്ഥാനമായ കേരളം അതിന്റെ രൂപീകരണ ദിനം ആസ്വദിക്കുന്നു! മുമ്പെങ്ങുമില്ലാത്തവിധം കേരളപ്പിറവി ദിനം ആഘോഷിക്കൂ!
- കേരളത്തിന്റെ സംസ്കാരവും പൈതൃകവും ഭൂമിയും ലോകമെമ്പാടുമുള്ള എല്ലാ മലയാളികൾക്കും ആഘോഷിക്കേണ്ടതാണ്! കേരള സംസ്ഥാനത്തിന്റെ ഭാഗമായതിന്റെ ആഘോഷമാണ് കേരളപ്പിറവി.
Kerala Day is a day of pride and celebration for the people of Kerala. It symbolizes the unity of the Malayalam-speaking people and their unique cultural and linguistic identity. It's an occasion to remember the efforts and sacrifices made by leaders and activists who advocated for the formation of the state
Last Updated Nov 1, 2023, 9:20 AM IST