Karwa Chauth 2023: How to make flavorful Pheni for sargi
Learn how to prepare the perfect Pheni for your Karwa Chauth Sargi meal. This sweet and nourishing dessert is an essential part of the fasting tradition.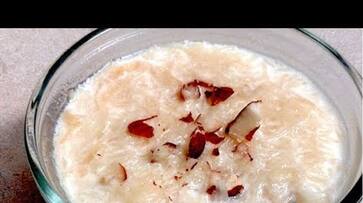 Karwa Chauth is a beautiful Hindu festival celebrated by married women who observe a day-long fast for the well-being and longevity of their husbands. The pre-dawn meal, known as Sargi, plays a pivotal role in helping women sustain the fast throughout the day. Pheni, a traditional Indian dessert made from vermicelli, is a delightful and energizing part of the Sargi meal. In this article, we will learn how to make this sweet and nourishing Pheni for a fulfilling start to your Karwa Chauth fast.
Ingredients:
1 cup vermicelli (pheni)
1/2 cup ghee (clarified butter)
1/2 cup sugar
1/2 cup water
1/4 cup milk
A pinch of cardamom powder
A handful of slivered almonds and pistachios
Saffron strands (optional, for garnish)
Also Read | Karwa Chauth 2023: 10 tips to make your mehndi darker overnight
Instructions:
Preparation: Begin by gathering all the necessary ingredients and equipment. This will make the cooking process smoother and more enjoyable.

Dry Roasting Pheni: In a heavy-bottomed pan, heat the ghee over medium-low heat. Once the ghee is hot, add the vermicelli (pheni). Stir constantly to ensure even roasting. Roast the vermicelli until it turns golden brown and gives off a nutty aroma. This should take about 7-10 minutes.

Preparing Sugar Syrup: While the vermicelli is roasting, in another saucepan, heat the water and sugar over medium heat. Stir until the sugar dissolves completely. Once the sugar syrup comes to a boil, reduce the heat and let it simmer for a few minutes to thicken slightly. Add a pinch of cardamom powder to the syrup for flavor.

Cooking Vermicelli: Once the vermicelli is roasted to perfection, pour the sugar syrup over it. Be cautious, as the mixture may splutter initially. Stir well to ensure the vermicelli is coated evenly with the syrup.
Also Read |  Fasting with ease: 10 tips to prevent acidity on Karwa Chauth 2023
Adding Milk: Pour in the milk and give it a gentle stir. The milk adds a lovely creaminess to the dish.

Simmering: Reduce the heat to low and cover the pan. Allow the vermicelli to simmer in the syrup and milk for about 5-7 minutes, or until it softens and absorbs the flavors.

Garnishing: Turn off the heat and garnish your Pheni with slivered almonds and pistachios. For an extra touch of luxury, you can also add a few saffron strands.

Serving: Your delicious Pheni is now ready to be served. Enjoy it as a part of your Sargi meal before sunrise on Karwa Chauth.
Pheni is a delightful dessert that not only satisfies your sweet tooth but also provides the necessary energy to sustain you throughout the Karwa Chauth fast. This traditional Indian dish is easy to prepare and is a cherished part of the pre-dawn Sargi meal. With the aromatic flavors of cardamom, the richness of ghee, and the crunch of nuts, your Pheni will be the perfect start to a day filled with love, devotion, and blessings.
Last Updated Oct 31, 2023, 7:00 PM IST