Karwa Chauth 2023: Astrologically guided colours women should wear according to their zodiac sign
Discover the traditions and significance of Karwa Chauth, the Hindu festival of love and devotion. Learn how astrology guides women in choosing the perfect attire for this auspicious day.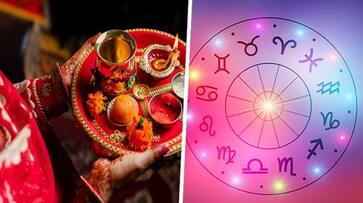 Karwa Chauth, also referred to as Karak Chaturthi, is a highly auspicious festival scheduled to be celebrated on November 1st. This observance falls within the Krishna Paksha Chaturthi of the Kartik month in the Hindu calendar. It is a revered tradition in which married women partake to pray for the longevity, security, and well-being of their husbands.
During the observance of Karwa Chauth, married women dutifully undertake a day-long fast, abstaining from both food and water. It is only after the moonrise that they are allowed to partake in sustenance, and this is done with a beautiful ritual wherein their husbands offer them water and food to symbolically break their fast.
In accordance with astrological guidance, it is suggested that women should adorn themselves in attire of specific colors that are harmonious with their respective zodiac signs. Here's the list of zodiac signs and with its respective color attire:
1. Aries: Those under the influence of Aries, governed by Mars, are advised to don attire in a vibrant red hue, including sarees, bindis, and bangles for this special day.
2. Taurus: For individuals born under the Taurus sign, adorning themselves in shades of yellow or gold in the form of sarees and bangles is considered astrologically propitious.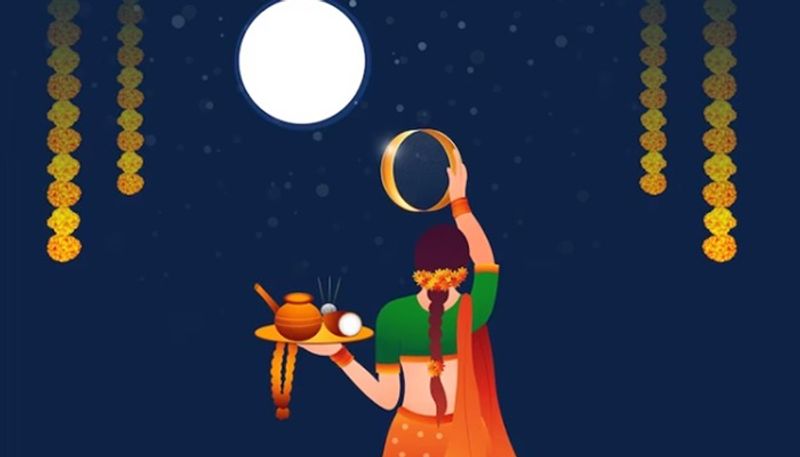 3. Gemini: Women aligned with the Gemini zodiac should opt for dark green sarees and bangles to enhance the auspiciousness of Karwa Chauth.
4. Cancer: The Cancer zodiac sign signifies a preference for deep red sarees and bangles, imparting an aura of auspiciousness to the day.
5. Leo: Those born under Leo should embrace the vibrant essence of blood-red sarees and bangles, aligning with the energies of the occasion.
6. Virgo: To invoke celestial blessings, Virgo individuals should select dark green sarees and bangles as their attire of choice on Karwa Chauth.
7. Libra: Women guided by the Libra zodiac sign can enhance the spiritual significance of the day by wearing pink sarees and bangles.
8. Scorpio: For Scorpio zodiac women, light maroon sarees and bangles are deemed to be a favorable choice on Karwa Chauth.
9. Sagittarius: Individuals born under Sagittarius can opt for golden sarees, bangles, and bindis to harmonize with the divine blessings of the day.
10. Capricorn: Those under the Capricorn sign are encouraged to embrace the auspiciousness of brown-colored attire for this occasion.
11. Aquarius: Women with an Aquarius zodiac affiliation should choose brown attire to align with the blessings of the sun god on Karwa Chauth.
12. Pisces: For Pisces individuals, the color yellow is regarded as the most auspicious choice for their outfits on this special day, enhancing the spiritual essence of the occasion.
Last Updated Nov 1, 2023, 7:45 AM IST