Karwa Chauth 2023: 7 thoughtful gifts for wives on festive day
On Karwa Chauth, show your love and appreciation to your wife with thoughtful gifts like traditional attire, jewelry, beauty products, personalized items, spa packages, hobby-related items, or even a romantic getaway. These gifts symbolize love and gratitude, making the festival even more special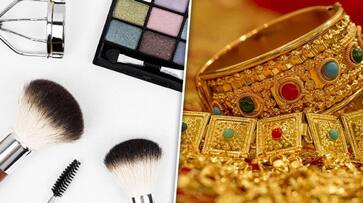 Karwa Chauth is a significant and cherished Hindu festival celebrated by married couples, primarily in North India, to express love and devotion. During this day-long fast, married women pray for the longevity and well-being of their husbands. It is a beautiful occasion for husbands to reciprocate their love and appreciation by giving thoughtful gifts to their wives. These gifts not only symbolize love but also serve as a token of gratitude for the sacrifices women make during the fast. To help you express your love and appreciation, here are seven thoughtful Karwa Chauth gifts to give your wife.
Traditional Attire: Traditional Indian clothing is always a delightful gift. A gorgeous saree or an exquisite lehenga choli can make your wife feel even more beautiful. Choose a color and design that suits her style, and she'll cherish it as a symbol of your love.

Jewelry: Women love jewelry, and Karwa Chauth is an excellent occasion to gift her a stunning piece. Whether it's a necklace, earrings, bangles, or a ring, select something that aligns with her taste. Jewelry not only enhances her beauty but also holds sentimental value.

Cosmetic and Beauty Products: Pamper your wife with a set of high-quality cosmetic and beauty products. A luxurious skincare or makeup set from her favorite brand is a thoughtful gift. It shows that you care about her self-care and want her to feel her best.

Personalized Gifts: Personalized gifts carry a special touch. Consider customized items like a photo album, a piece of art, or a calendar featuring your pictures together. These gifts evoke cherished memories and show the effort you put into making the day memorable.

Spa or Wellness Package: After a long day of fasting, your wife would appreciate a spa or wellness package. It provides relaxation, rejuvenation, and a chance to unwind. It's a meaningful way to show you care about her well-being.

Books or Hobby-Related Items: If your wife is an avid reader or has a specific hobby, get her books or items related to her interests. This demonstrates that you value her passions and interests, making her feel understood and cherished.

A Romantic Getaway: If your budget allows, plan a romantic getaway for the two of you. It could be a weekend trip to a serene location or a visit to a dream destination. A vacation is a perfect way to create lasting memories and rekindle the romance in your relationship.
Karwa Chauth is a beautiful opportunity to celebrate the bond between husband and wife. The gifts you choose should reflect your love, appreciation, and understanding of your wife's preferences. Whether you opt for traditional gifts or something more personalized, the thought and effort you put into selecting the perfect Karwa Chauth gift will make this festival even more special for your wife. It's a way of saying "thank you" for her love and dedication, and a reminder that your love grows stronger with each passing day.
ALSO READ: Karwa Chauth 2023: 10 tips to make your mehndi darker overnight
Last Updated Oct 31, 2023, 1:50 PM IST