From starters to sweets: A simple Bhai Dooj 2023 lunch extravaganza
Craft a delightful Bhai Dooj celebration with this easy lunch menu, featuring flavorful dishes like Aloo Tikki Chaat, Chicken Curry with Jeera Rice, Bhindi Masala, Dal Tadka, Cucumber Raita, Gulab Jamun, and a comforting cup of Masala Chai.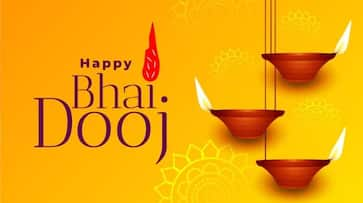 Bhai Dooj, a festival that celebrates the bond of love between brothers and sisters, is marked by joyful gatherings and delicious feasts. To make the celebration even more special, consider preparing an easy yet delectable lunch menu that allows you to spend more time with your siblings and less time in the kitchen. In this article, we'll guide you through crafting a simple and delightful lunch menu for Bhai Dooj.
Appetizer: Aloo Tikki Chaat
Start the celebration with a flavorful and easy-to-make appetizer. Aloo tikki chaat combines spiced potato patties with a medley of chutneys, yogurt, and crunchy sev. This tangy and savory dish is sure to whet the appetite of your loved ones.
Main Course: Chicken Curry with Jeera Rice
For the main course, opt for a fuss-free chicken curry paired with aromatic jeera rice. The chicken curry can be prepared with a blend of spices, tomatoes, and onions for a rich and hearty dish. Jeera rice, with its subtle cumin flavor, makes for a perfect accompaniment, enhancing the overall dining experience.
Side Dish: Bhindi Masala
Add a touch of green to your lunch menu with bhindi masala. This simple yet flavorful side dish features okra cooked with spices, tomatoes, and onions. Bhindi masala not only adds color to your plate but also offers a unique texture and taste.
Dal Tadka: Comforting Lentil Dish
Include a comforting dal tadka in your menu. This lentil dish, tempered with cumin seeds, mustard seeds, and curry leaves, provides a warm and nutritious addition to the meal. Serve it with steamed rice or Indian bread of your choice.
Accompaniment: Fresh Cucumber Raita
Cool down the palate with a refreshing cucumber raita. This yogurt-based side dish is seasoned with cumin, mint, and a pinch of salt, making it a perfect complement to the rich and spicy flavors of the main course.
Dessert: Gulab Jamun
Conclude the Bhai Dooj feast on a sweet note with the classic Indian dessert, gulab jamun. These soft and spongy dumplings are soaked in a fragrant sugar syrup, creating a delectable treat that is loved by all.
Beverage: Masala Chai
Wrap up the lunch with a cup of masala chai. The aromatic blend of tea leaves and spices in masala chai adds a comforting touch to the meal, creating a perfect ending to your Bhai Dooj celebration.
Creating a memorable Bhai Dooj lunch need not be a laborious task. This easy and delightful menu allows you to focus on the joy of the festival, cherishing the bond between siblings. May your Bhai Dooj be filled with love, laughter, and the shared enjoyment of a delicious meal.
Last Updated Nov 14, 2023, 6:59 PM IST