Buy a Book Day 2023: Day, history, and significance
Buy a Book Day, celebrated on September 7th, promotes the joy of reading. Let's explores its history, significance, and 10 must-buy books, emphasizing the enduring value of literature in an increasingly digital world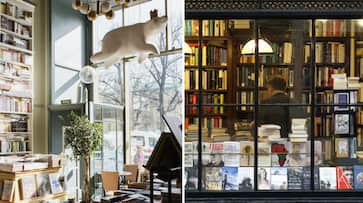 Books have been humanity's faithful companions for centuries, serving as gateways to knowledge, imagination, and wisdom. "Buy a Book Day" is a delightful celebration that encourages individuals to explore the magic of literature and acquire books that pique their interests. This annual observance, which falls on September 7th, is a reminder of the boundless opportunities that await within the pages of a book. In this article, we will delve into the history, significance, and offer a curated list of 10 must-buy books to commemorate this special day.
History 
The origins of Buy a Book Day are somewhat elusive, but it is believed to have emerged from a collective desire to promote reading and support the book industry. Literature enthusiasts, recognizing the transformative power of books, initiated this day as an occasion to encourage people to buy and read more books. Its timing in early September serves as a perfect segue into the cozy reading months of fall.
ALSO READ: Healthy Life: 5 surprising benefits of eating Dates in the morning daily
Significance
Buy a Book Day holds profound significance in today's fast-paced digital age. It reminds us that amidst the digital distractions, the tactile pleasure of flipping through pages and the intellectual stimulation provided by a well-crafted narrative are irreplaceable. It encourages literacy, fosters a love for reading in children and adults alike, and supports authors and publishers. Moreover, books have the remarkable ability to broaden our horizons, spark our creativity, and cultivate empathy by allowing us to walk in someone else's shoes. This day urges us to celebrate the written word, embrace diverse perspectives, and embark on journeys to distant lands and realms of imagination through the simple act of buying a book.
10 Must-Buy Books
To Kill a Mockingbird by Harper Lee
1984 by George Orwell
The Great Gatsby by F. Scott Fitzgerald
Pride and Prejudice by Jane Austen
The Catcher in the Rye by J.D. Salinger
The Alchemist by Paulo Coelho
The Harry Potter series by J.K. Rowling
The Lord of the Rings trilogy by J.R.R. Tolkien
Becoming by Michelle Obama
Sapiens: A Brief History of Humankind by Yuval Noah Harari
Each of these books offers a unique literary experience, from timeless classics to contemporary gems, spanning various genres and themes. They are windows into different worlds, perspectives, and ideas, making them essential additions to any book lover's collection.
On Buy a Book Day, let's celebrate the written word and embark on new literary adventures, for within the covers of a book, we discover not only stories but also ourselves
Last Updated Sep 7, 2023, 4:39 PM IST