Buenos Aires to Mendoza: 7 MUST visit places in Argentina
Explore Argentina's diverse beauty and culture with these must-see places, from the vibrant Buenos Aires to the stunning Iguazu Falls and Patagonia's pristine wilderness. Savor wine in Mendoza, soak in the lakes and mountains of Bariloche, uncover the history of Salta, and venture to the end of the world in Tierra del Fuego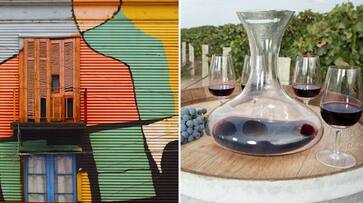 Argentina, a country of extraordinary diversity, boasts a wide array of natural wonders, cultural gems, and culinary delights. Nestled in the southern part of South America, this vast and beautiful land offers a unique blend of cosmopolitan cities and untouched wilderness, making it an enchanting destination for any traveler. In this guide, we will explore seven must-see places in Argentina, each with its own distinct charm and character.
1. Buenos Aires: The Paris of South America
The vibrant capital city, Buenos Aires, is a captivating blend of European elegance and Latin American flair. Known as the "Paris of South America," it's renowned for its rich cultural scene, including world-class tango performances and impressive art museums. Stroll through the historic neighborhoods of San Telmo and La Boca, where colorful houses and lively street art adorn the cobblestone streets. Don't miss the opportunity to savor traditional Argentine cuisine in one of the city's many parrillas (steakhouses).
2. Iguazu Falls: Nature's Masterpiece
Iguazu Falls, a UNESCO World Heritage site, is a breathtaking natural wonder situated on the border between Argentina and Brazil. This system of waterfalls, with its 275 individual cascades, is surrounded by lush rainforests and teeming with diverse wildlife. Take a boat ride to get up close and feel the mist on your face, or explore the well-maintained walkways to appreciate the awe-inspiring beauty of this natural spectacle.
3. Patagonia: Land of Glaciers and Adventure
Patagonia, in southern Argentina, is a paradise for outdoor enthusiasts. Towering mountains, massive glaciers, and pristine lakes make this region a haven for hiking, camping, and ice trekking. Perito Moreno Glacier in Los Glaciares National Park is a highlight, where you can witness the spectacular calving of icebergs into Lake Argentino. Explore the charming town of El Calafate for easy access to this frozen wonderland.
4. Mendoza: Wine Capital of Argentina
Mendoza, located at the foothills of the Andes, is Argentina's wine country. This region is famous for its Malbec wine and offers countless wineries and vineyards to explore. Take a wine tour to taste some of the world's finest wines while surrounded by stunning mountain landscapes. Mendoza is not just about wine; it also offers hiking, horseback riding, and delicious Argentine cuisine.
5. Bariloche: Lakes and Mountains
Nestled in the Andes, Bariloche is a picturesque city surrounded by lakes and snow-capped mountains. This region is perfect for those who love the great outdoors. Hike in Nahuel Huapi National Park, go skiing in the winter, or enjoy water sports on the pristine lakes during the summer. The Swiss-like architecture and the famous chocolate shops make it a charming destination year-round.
6. Salta: The Heart of the Northwest
In the northwestern part of Argentina, you'll find Salta, a region known for its colonial architecture, colorful mountains, and rich indigenous culture. The city of Salta itself is a historic gem, while the surrounding landscapes offer some of the most remarkable road trips in the country, such as the scenic route through Quebrada del Toro and Quebrada de Humahuaca.
7. Tierra del Fuego: Land of Fire
Tierra del Fuego, located at the southernmost tip of Argentina, is a land of rugged beauty. Ushuaia, its capital, is the southernmost city in the world and serves as a gateway to Antarctica. Visitors can explore the stunning landscapes of Tierra del Fuego National Park, take a boat tour along the Beagle Channel, and experience the unique thrill of being at the end of the Earth.
Argentina is a land of diverse beauty and culture, offering something for every type of traveler. From the bustling streets of Buenos Aires to the serene wilderness of Patagonia, this South American gem invites you to explore its many facets and create unforgettable memories. Argentina is a nation of contrasts, where you can dance the tango, savor world-class wines, and revel in the splendors of nature, all in one extraordinary journey.
Last Updated Oct 13, 2023, 2:45 PM IST