Sukhoi-30 jet crash: IAF sent empty coffin to family of Flt Lt Achudev
Flight Lieutenant Achudev was killed in the Sukhoi-30 crash in Assam on May 23
Achudev's father said that they received a 'symbolic coffin' and IAF did not conduct a proper search
He has sought details of the investigation and asked government to continue search operations till the pilots are located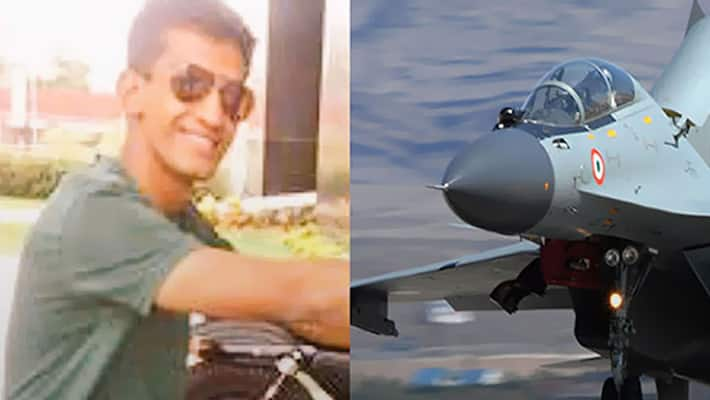 The family of Flight Lieutenant Achudev have come up with an allegation that the Indian Air Force (IAF) sent an empty coffin to the family under the pretext of sending the mortal remains of the fighter pilot. Achudev, 25, was one of the two Air Force pilots killed in the Sukhoi-30 crash in Assam on May 23. 
The parents filed a complaint with the Prime Minister and alleged 'mystery' behind the missing of aircraft. They approached the Prime Minister through A Sampath MP from Kerala. 
The remains of the pilot were buried on the premises of his house in Kozhikode with full military honours on June 3. The mortal remains were brought to Thiruvananthapuram airport on June 2 by a special Air Force plane, and Chief Minister Pinarayi Vijayan paid his last respects. Achudev's father P V Sahadevan, a retired scientist at the Indian Space Research Organisation and mother Jayashree had accompanied the coffin. 
The aircraft crashed approximately 60 km North of Tezpur on May 23 after it lost radio and radar contact after it took off from Tezpur Air Base. Squadron leader D Pankaj too was killed in the accident. It took three days to locate the remains near Doulasang in Arunachal Pradesh. 
In the letter sent to the PM, Achudev's father states that they received a 'symbolic coffin' and the Air Force did not conduct a proper search in the area owing to bad weather. The search team found only a half-burned wallet of Achudev and blood-stained shoe of Pankaj from the crash site. 
The letter further states that family members cannot accept the demise of their son in the absence of any consistent, conclusive and corroborative material evidence of bodily remains. 
Sahadevan wants to know on what basis did the IAF reached the conclusion and whether they retrieved the Flight Data Recorder (FDR) and Cockpit Voice Recorder (CVR) of the Sukhoi aircraft and what were the findings. "I want last recorded conversation between both pilots. I also want to know why an intense search operation was not landed based on the findings," Sahadevan told Asianet News.
He also wants to know the current status of the search operation and whether ISRO's foreign satellite imagery was employed for conducting surveillance during the search operation. He also requested the government to continue with effective search operations till the pilots are located. 
Sampath MP said that he approached the President, Prime Minister and Defence Minister in the matter as he was not satisfied with the reply given by Air Marshal. 
The family is intrigued by the fact that IAF did not issue a statement about the disappearance of the pilot and the police did not register a case of missing aircraft. Though the report said that the officials had recovered a partially burned wallet, it was not returned to the family. 
Kerala government is backing the family and CPM state secretary Kodiyeri Balakrishnan requested a high-level probe into the accident. 
Last Updated Mar 31, 2018, 6:39 PM IST