Collector Bro does a Kummanam, post goes viral on Facebook
N Prasanth Nair IAS posted a photo of him standing between Prime Minister and Kummanam
Most of the comments were about Kummanam travelling on Metro train without an invite
Later Collector Bro had to come up with an explanation that it was a self-troll
At a time when Kummanam memes are going viral on social media, N Prasanth Nair IAS, who is popular as Collector Bro, made a Facebook post, doing a 'Kummanam.' Prasanth uploaded a photo in which he can be seen standing between Kummanam and Prime Minister.  
'Even beyond that, or how about my intrusion in this picture,' was the tagline of his post. 
The post became viral with over 1400 shares, and as the comments were mainly about Kummanam, Prasanth himself came up with the explanation that it was only a self-troll. He had to explain that his post was only a self-troll and he did not intend to hurt anyone. 
"I had to delete several comments after people began to use this space for commenting against Kummanam. This is only a self-troll and I had no intention to hurt anyone. I am not interested in targeting anyone beyond limits bros," he wrote.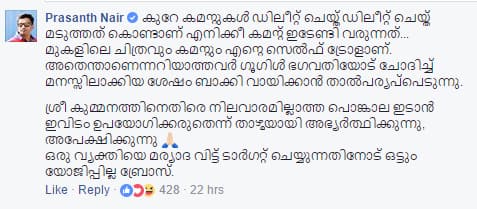 Some comments were interesting like the one in which a person asked whether this amounts to a violation of protocol. Prasanth answered that he violated the protocol using his position as district collector. 

Another one called him the first person to become an MLA by doing a Kummanam. 
Also read: Thanks to Kochi Metro ride memes, 'Kummanam' is now a word in Malayalam
Last Updated Mar 31, 2018, 6:34 PM IST