How controversies marred diamond jubilee celebration of Vidhana Soudha
Vidhana Soudha's diamond jubilee was celebrated with a grand manner
From JD(S) leaders walking out of group photo to Prof CNR Rao being humiliated, the event was no less controversial
President Ram Nath Kovind graced the celebration where he addressed the session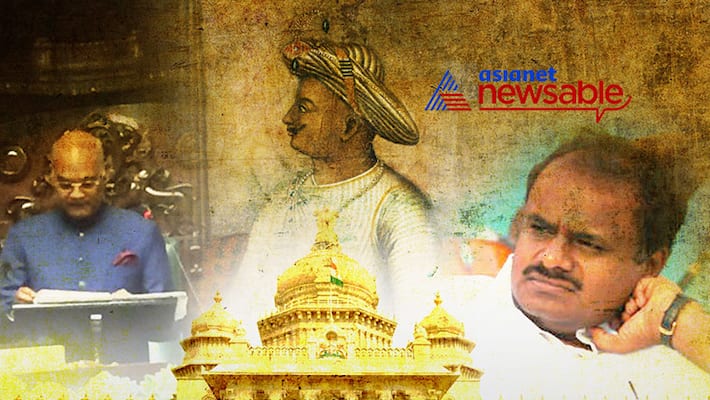 The diamond jubilee of the Vidhana Soudha was no less grand. But it was not devoid of any controversies. Here are a few moments that cast a shadow over the eventful day.
1. President sings peans of praise on Tipu Sultan
At a time when the State BJP leaders are vociferously opposing the State government's plan to celebrate the birth anniversary of Tipu Sultan, President Ram Nath Kovind's speech praising Tipu Sultan surprised BJP leaders. He termed Tipu a freedom fighter while describing that he died a historical death while fighting the British.
This was something that the BJP perhaps did not expect. For, BJP MP Anant Kumar Hegde had called Tipu Sultan a "mass rapist" and "brutal killer". He had even requested the state government not to invite him to the "shameful" event. This has certainly become a bitter pill to swallow.
2. JD(S) walks out of group photo
As part of the historic day, a photo session of legislators with the President was scheduled. But former chief minister and JD(S) State president HD Kumaraswamy reportedly went away from the photo session as there were no seats accommodated for him. It is reported that a chair reserved for him was at the back of the row and this deeply hurt Kumaraswamy. He left the venue, it is reported.

3. Crores spent on decoration but no respect to Kengal Hanumanthaiah's grave
Kengal Hanumanthaiah, the second chief minister of then Mysore State, has been credited with the construction of the Vidhana Soudha. The government had sanctioned Rs 10 crore for the daylong celebration. But the government did not show courtesy in offering tributes at the grave of Kengal Hanumanthaiah, at least on this day.
4. Shabby treatment to invitees
Celebrated scientist CNR Rao who was one of the invitees for the celebration was asked to show his identity card by the security staff at the gates of Vidhana Soudha. It is said that he is even exempted from frisking even at the airports. Similar treatment was meted out some of the legislators, even though they had invitation cards. As a result, they were deprived to be the part of the celebration.
5. Was the celebration meant for politicians alone?
While who's who of the political parties were present at the grand celebration of Vidhana Soudha, the staff of Vidhana Soudha were reportedly not invited for the programme. What more? They were given half-day holiday from their work and thus thus depriving them of being a part of the celebration and and they too were not part of the festivities.   
Last Updated Mar 31, 2018, 6:39 PM IST