Unless you have permission, you can't use camera in Hampi!
The Archaeological Society of India (ASI) issued circular restricting photography without permission at Hampi
Rs 750 should be paid to use photographs for commercial purpose
While there is no issue to take photographs in mobile phones, using selfie stick is prohibited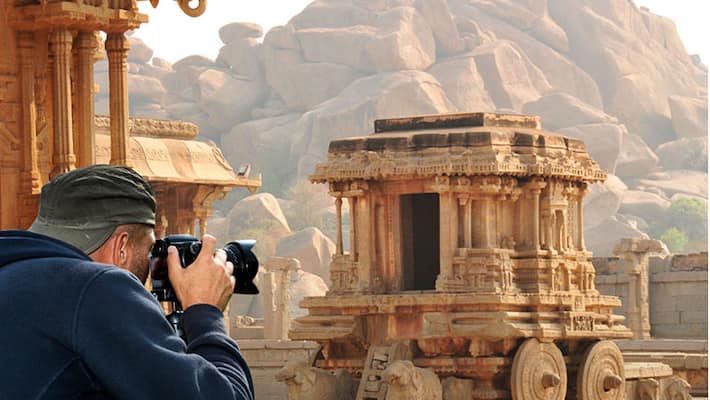 Who does not want to capture the beauty of ruins at the UNESCO World Heritage site, Hampi? Photographing the famous stone chariot, Virupaksha temple, dilapidated Vittala temple or even river Tungabhadra that have been the regular "fixed" spots to so many photographers for years will, however, now come at a price.
From next time if you plan to do a photoshoot at the World heritage site Hampi, make sure you have a valid permission from the authorities concerned to do so. For, the Archaeological Survey of India (ASI) has now made it mandatory to obtain permission to do a photo shoot in Karnataka's Hampi, Taj Mahal in Agra and other protected heritage spots. Permission should be taken at least 15 days before the visit to Hampi. Also, one should pay the required amount of fee before using the camera with lenses at Hampi and other heritage spots report Prajavani.
A circular in this regard has been issued by the ASI much to the shock of the photographers, especially the budding lensmen, to whom Hampi provides a perfect platform to sharpen their photography skills. But the circular from the ASI will certainly disappoint many.
What the circular says
A. Prior permission with fee must to use monopod and flash lights.
B. No fee on if flashlights or monopods are used during photography for education or research purpose. But one must take permission, before hand.
C.No permission or fee needed to take photographs in a mobile phone. But one cannot use those pictures for commercial purpose.
D. One cannot use selfie sticks while in Hampi
E. One must pay Rs 750 to use photos taken at Hampis for commercial purpose
F. Those who want to videography the Unesco Heritage Site, one must pay Rs 50,000 with Rs 10,000 as a deposit. The deposited money will be returned after the video shoot.
G. However, government officials, will be given concession for photography and videography.
Last Updated Mar 31, 2018, 7:04 PM IST