Trouble for DK Shivakumar again: IT sleuths summon minister, wife and other family members
DK Shivakumar's wife Usha Shivakumar, mother Gowramma, sister Padma and brother and MP DK Suresh are expected to face the IT grill
Unconfirmed reports said his daughter too had been summoned
It is alleged that the IT raid on the minister yielded Rs 400 crore worth undisclosed income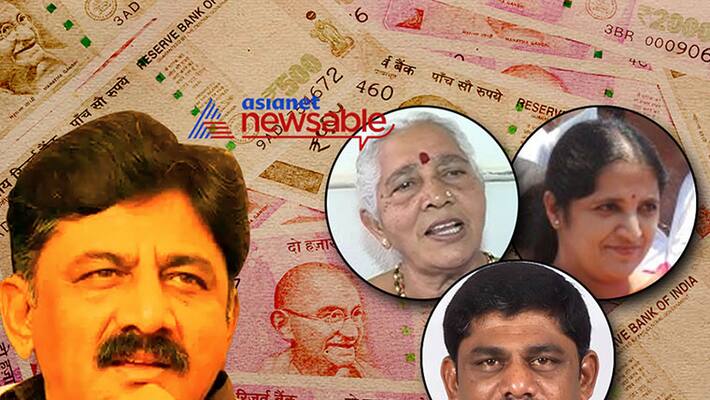 The Income Tax (IT) scare has come to haunt Energy Minister DK Shivakumar yet again. On Monday, the minister has been summoned to appear for the inquiry about the searches conducted at his properties in August. What more, this time the IT sleuths have reportedly summoned his wife, mother, brother and sister to appear before the IT department.
Also read: The truth behind video showing money stashed at DK Shivakumar's Delhi residence
It may be recalled here that the Income Tax officials had conducted a marathon searches on Minister's home in Sadashivanagar and other properties. The IT officials had conducted searches at his acquaintances including his father-in-law's house in Mysuru.
Minister Shivakumar was reportedly under the IT scanner after he hosted 44 Gujarat legislators at Eagleton Resort in August. The raid was conducted following complaints of his alleged tax evasion.
However, now his wife Usha Shivakumar, mother Gowramma, sister Padma and brother and MP DK Suresh too will be facing the IT grill, it is reported. Unconfirmed reports said that Minister's daughter too had been summoned for the inquiry.
Also read: Mother's emotional speech gets DK Shivakumar in trouble?
Television reports said that the IT sleuths had directed the minister not to bring his Chartered Accountant with him. This puts onus on the minister to provide clarifications on complaints of his alleged tax evasion.
In fact, this could be perhaps for the first time that the IT officials have summoned the family members for the inquiry at IT office on Queen's Road. Television reports said that the family members could be inquired separately and their statements may be corroborated later.
Also read: DK Shivakumar the second richest minister in the country?
It may be recalled here that the raid had allegedly yielded Rs 400 crore worth undisclosed assets. So far, the minister has not provided documents to support the rise in his assets. Considering this, the IT sleuths are inquiring his family members too. If the minister and his family members failed to provide documents for the alleged undisclosed income, in all probability, it might be considered as 'benami' properties, and the minister may be booked under the Benami Transactions (Prohibition) Act, implemented in 2016. Under the Act, the minister - if proved guilty -  may face imprisonment up to 5 years.  
Last Updated Mar 31, 2018, 6:37 PM IST