Yellow alert in Karnataka for next 3 days, heavy rainfall expected
The Meteorological Department has issued a yellow alert for Karnataka, forecasting heavy rainfall from November 7 to 9 due to a surface cyclone in the Arabian Sea. Rain and thundershowers are expected in many areas, with the heaviest rain in specific districts, including coastal Uttara Kannada, Gadag, Haveri, and more. Some regions will also see lower temperatures, while Bengaluru remains cloudy with rain and fog.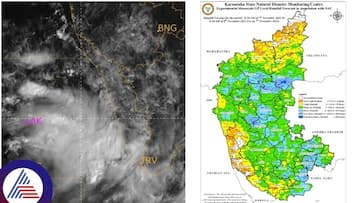 The Meteorological Department has issued a yellow alert for the state of Karnataka, predicting heavy rainfall over the next three days, from November 7 to November 9. This weather warning encompasses several districts, including those in the southern hinterland, coastal areas, and the northern hinterland. The forecasted heavy rainfall is attributed to the formation of a surface cyclone in the Arabian Sea. During this period, the wind is expected to blow at speeds of approximately 35 to 40 kilometres per hour in the affected areas.
The meteorological report anticipates light to moderate rain and thundershowers across most parts of the southern interior, coastal regions, and the northern interior of Karnataka. However, the heavy rain is likely to be concentrated in specific areas, including coastal Uttara Kannada district, northern inland Gadag, Haveri districts, south inland Bangalore city, Bangalore countryside, Mysore, Mandya, and Chikkaballapur districts. Additionally, heavy rain is expected in select parts of the Chitradurga, Davangere, and Tumkur districts in the southern hinterland over the next two days.

'Barbaadi ki guarantee': PM Modi slams Congress, highlights false promises in Karnataka, Himachal Pradesh
Residents in some parts of the southern and northern hinterland, as well as a few coastal areas, can expect lower minimum temperatures. This translates to temperatures that are 2 to 3 degrees Celsius below normal. However, there are no adverse forecasts for fishermen, except for those in Uttara Kannada district. Coastal areas in Udupi and Dakshina Kannada districts will experience light rain, providing relief for fishermen.

Siddaramaiah challenges PM Modi: Demands evidence for accusations against Karnataka govt

The state capital, Bengaluru, and its surrounding areas are likely to remain predominantly cloudy over the next three days. The weather outlook includes a high likelihood of rain, thundershowers, and occasional heavy rain. Additionally, some areas may experience morning fog. The expected maximum temperature is 27 degrees Celsius, with a minimum temperature of 19 degrees Celsius.
According to the Karnataka State Natural Disaster Monitoring Center (KSNDMC), the satellite rain map suggests that there will be no rainfall anywhere in the state from November 11 to November 14. However, on November 15, rain is predicted for Tumkur, Bangalore City, Bangalore Rural, Mysore, Kodagu, Chamarajanagar, Mandya, Ramnagar, Chikkaballapur, and Kolar. Notably, Mysore and Chamarajanagar are expected to receive a maximum of 30 mm of rainfall on that day, marking the potential for significant precipitation.
Last Updated Nov 8, 2023, 5:32 PM IST