Worst situation since 123 years: Karnataka faces record rain deficit in August
Karnataka experienced its driest August in 123 years, with a 74% rainfall deficit compared to the expected 22 cm. This unprecedented shortage, worsened by El Niño conditions, is predicted to persist in September, potentially causing severe water shortages in various regions of the state.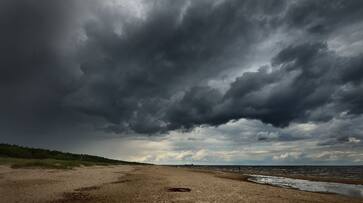 Karnataka just had its driest August in 123 years, making it the worst rainfall shortage of the century. The Meteorological Department's records go back to 1901, and they've never seen a 74% rainfall deficit in August before. Normally, the state expects 22 cm of rain in August, but this year, we only got 6 cm, which is a big 74% shortfall. This is even worse than the previous records in 1972 and 2016 when we had a 43 percent deficit.
Weather experts are calling this lack of rain unprecedented, wiping out all past records. What's concerning is that the shortage isn't just limited to August. The September forecast predicts that the lack of rain will continue, especially in the southern areas, coastal regions, and rainfed districts.

Why Karnataka is witnessing a 3°C rise in temperature during monsoons
Since the monsoon started in June, we've only had 49.7 cm of rain, while we usually get 85.2 cm for the entire monsoon season. Even if September brings normal rain, it won't be enough to make up for the significant deficit.
Several factors are causing this lack of rain, including the Indian Meteorological Department's prediction of below-average rainfall in September and the presence of El Niño conditions, which reduce rainfall. With the situation worsening over the past three months, it's unlikely we'll see a significant recovery in just 30 days.

Karnataka: All-party meeting to deliberate on Cauvery water sharing amidst rainfall scarcity
The rainfall shortage in August varies across the state:
- In the south, we expected 8.8 cm of rain but got only 2.5 cm, a 71% deficit.
- In the north, we anticipated 11.8 cm, but only received 3.5 cm, also a 71% deficit.
- In the highlands, we were supposed to get 42.3 cm, but we got just 8.5 cm, an 80% deficit.
- Along the coast, we expected 82.3 cm but got 22.9 cm, a 72% deficit.
- Overall, we expected 22.0 cm, but we only got 6.0 cm, a 74% deficit.
Meteorologist Srinivas Reddy says that such a massive deficit of rain has never been seen in August or any other month in the state's history. Unfortunately, the crisis isn't over, and experts believe dry conditions will continue in the coming weeks.
Last Updated Sep 1, 2023, 1:37 PM IST