Student fined Rs 500 for doing backflip inside Namma Metro in Bengaluru
The Bengaluru Metro Rail Corporation Limited (BMRCL) fined a student ₹500 for performing a dangerous backflip exercise on a metro train. The incident highlights safety concerns, and BMRCL has introduced short loop trains on the Purple Line to manage increased passenger traffic during rush hours, running trains every 3 minutes to accommodate surging numbers. Currently, BMRCL operates 57 trains, optimizing schedules to meet growing passenger demand.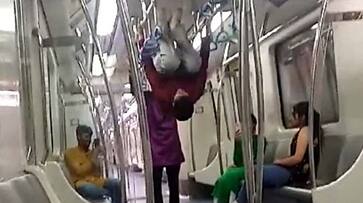 The Bengaluru Metro Rail Corporation Limited (BMRCL) has imposed a fine of ₹500 on a student who was caught doing a backflip exercise while holding onto the handles inside a metro train. The student, identified as Meet Patel, was filmed performing the stunt by his friends. Other passengers on the metro expressed their disapproval of this behaviour.
BMRCL staff, who saw the video of the student's stunt, shared it with security personnel at the Yalchenahalli metro station. At the same station, the students were stopped and fined ₹500, with a warning against such actions in the future. The BMRCL noted that the video showed the student behaving in a way that could potentially damage the metro train equipment.

Bengaluru: Commuters travel with foldable cycles inside Purple Line metro, share photos
The incident highlights a concern about safety and discipline on the metro. The BMRCL has taken this action to deter risky and disruptive behaviours
Short loop trains along Purple Line:
BMRCL has made operational adjustments to address increased passenger traffic, especially during rush hours. After launching the entire purple line, short loop trains have been introduced to ease congestion between Baiyappanahalli and Mysore Road Metro stations. 

Man comments 'Bengaluru's hospitality not as good as Delhi's' draws criticism from netizens
As a result, the number of passengers has surpassed 7 lakh in the last two days, contributing to crowded conditions during peak hours. The BMRCL is now running trains every 3 minutes between busy metro stations to accommodate the surging passenger numbers.
While the BMRCL has expanded its train services, it faces the challenge of managing the growing passenger traffic effectively. Currently, the metro operates 57 trains, with 33 serving the Purple Line and 24 on the Green Line, while five trains are reserved for maintenance. This decision is aimed at optimizing train schedules to meet the demand of the increasing number of passengers.
Last Updated Oct 19, 2023, 9:04 AM IST