Spotlight on civic apathy in Bengaluru, white-topped road caves in at a busy stretch in the I-T capital
Bengaluru, known as Silicon City and Garden City, faces a safety crisis due to deteriorating road infrastructure. A recent road collapse near Adugodi Junction exposed shoddy construction, making the city's roads risky for motorists. The blame falls on BBMP, responsible for road maintenance. This issue not only endangers commuters but also highlights the recurring problem of poor road quality in the city.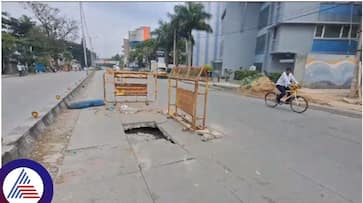 Bengaluru often hailed as Silicon City and Garden City, is currently grappling with a pressing issue that threatens the safety of its motorists. Recent reports of a road collapse in the state capital have brought to light the dire condition of its road infrastructure. About a three to four-foot section of a concrete road near Adugodi Junction suddenly gave way, raising concerns about the quality of construction and the safety of commuters.
This road, which was adorned with the much-touted white topping just five years ago, now stands as a grim testament to the civic neglect plaguing the city. The collapse has exposed a significant hollow beneath the road, highlighting the shoddy workmanship and lack of quality control in the construction process.

Temporary delay in Bengaluru metro: Purple Line to commence two hours late on November 5; read details here
Motorists traversing Bengaluru's roads are increasingly finding themselves at risk due to the deteriorating conditions of the city's infrastructure. The collapsed white-topped road, now replaced with a makeshift concrete hockey road, no longer offers a solid and dependable surface for vehicles.

Bengaluru: Accident claims two lives on Hosur road as truck collides with pedestrians
With a high volume of traffic on this stretch, concerns about accidents and their potential consequences are on the rise. The blame for such incidents falls on the Bruhat Bengaluru Mahanagara Palike (BBMP), the civic body responsible for road construction and maintenance in the city.
The alarming issue lies not just in the occasional road collapse but in the consistent lack of quality and durability in road construction, which poses a significant threat to the millions of people who use Bengaluru's road network daily. Despite the frequent complaints and safety risks, there seems to be no effective intervention to address the root causes of these problems, leaving motorists in Bengaluru with an uncertain and perilous commute.
Last Updated Nov 6, 2023, 4:00 PM IST