Shivani Swamy from Bidar selected to prestigious 'Indian Idol', Sole contestant from Karnataka
Shivani Shivdas Swamy from Bidar, Karnataka, has been selected as a contestant on Sony TV's 'Indian Idol.' She's the only representative from Karnataka, impressively making it from 13,000 initial contestants. Her musical journey includes accolades and awards, and she's seen as a rising star in the music world.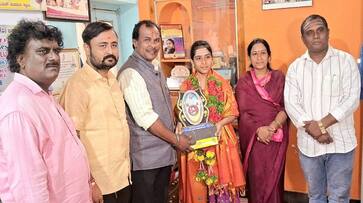 Shivani Shivdas Swamy, who lives in Bidar city, Karnataka, has been selected as a contestant in the Nation's prestigious singing competition, 'Indian Idol'. She's the only person from Karnataka who will be taking part in the show Indian Idol music competition on Sony TV.

Out of a massive group of 13,000 contestants who joined in the beginning stages, Shivani Swamy is the only one from Karnataka who made it to the part of the competition that gets shown on TV. This is a big achievement not just for Shivani but also for Bidar, her hometown, as it shines a positive light on the city in the music world.

Meet Rishi Singh from Ayodhya, winner of Indian Idol 13; here's what he takes home
Shivani's family loves music, and she has achieved a lot in her musical journey. In 2020, she took part in Zee TV's Saregamapa music competition and won a silver medal. She also got the top position in the Pride of Telangana competition, which happened in Hyderabad. In 2022, she won the first prize in a music competition at the state level for colleges and also succeeded in the Maharashtra Cha Awaaz music competition, making her hometown Bidar proud.
Shivani's outstanding contributions to the music world were recognized when she was given the Kalyana Kala Ratna award at an event by the Kalyan Karnataka Artistes Union in Bidar last year. She also showed her musical talent by getting first place in the Bidari folk singing competition organized by the Bidari Cultural Forum.
Born in December 2006 to music artists Kavita Swamy and Pt. Shivdas Swami, Shivani started learning music from her father when she was just three years old. Today, she's a rising star in the music industry.

Heartwarming: PM Modi applauds German girl's love for Indian music
Recently, Shivani Shivdas Swamy was honoured with a shawl, garland, and a memento by the Kalyan Karnataka Artists Union at her home. Shivani expressed her happiness at being chosen in the first stage of the Indian Idol competition and gave credit to her family's dedication to music for her success.
Vijayakumar Sonare, the president of the Kalyan Karnataka Artistes Union, praised Shivani's incredible achievements and pointed out her talent in the Bidar district. He emphasized the need for platforms that can discover and support local talent, and he urged the state government to find exceptional artists in the music field.
Last Updated Sep 25, 2023, 3:35 PM IST