Heartwarming: PM Modi applauds German girl's love for Indian music
Prime Minister Narendra Modi has commended the remarkable talent of a visually impaired young woman from Germany during his monthly Mann Ki Baat broadcast. This gifted individual, named Cassandra Mae Spittmann, has garnered widespread recognition on Instagram for her soul-stirring renditions of Indian songs, including those in Kannada and Sanskrit.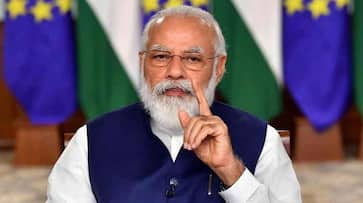 In his address, Prime Minister Modi expressed his admiration, stating, "You will be surprised to hear this. Recently, she has become very famous on Instagram. What a melodious voice she has. In this voice, we can see the love of God. She is a German girl, 21 years old. Unfortunately, her eyes are not visible, but there is divinity in her voice." 
Mann Ki Baat: PM Modi lauds India's rising allure on 'World Tourism Day' | WATCH
Despite never having visited India, Cassandra has diligently practiced Indian music and has become proficient in singing songs in various Indian languages such as Kannada, Malayalam, Tamil, Sanskrit, Hindi, Assamese, Bengali, Marathi, and Urdu. Modi, who listened to her Kannada song during his address, wholeheartedly appreciated her remarkable achievement. 
Mann Ki Baat: PM Modi acknowledges Chandrayaan-3's online popularity during his monthly radio address | WATCH
Cassandra deep fascination with Indian music and culture has driven her to dedicate 5-6 years to mastering this art form. She is also skilled in playing the Tabla. 
Prime Minister Modi lauded her accomplishments as a source of inspiration for every Indian, showcasing the power of music to transcend boundaries and connect hearts.
Last Updated Sep 25, 2023, 2:11 PM IST