Karnataka: Union Minister Pralhad Joshi accuses Congress govt of injustice on water issues
Union Minister Pralhad Joshi has strongly criticized the Congress, accusing them of having done injustice to the state concerning water-related issues. Joshi raised questions about the Congress's stance on the Mekedatu project, especially in light of their alliance with the DMK (Dravida Munnetra Kazhagam). He pointed out that Congress leaders Siddaramaiah and DK Shivakumar are actively campaigning on behalf of the DMK but have not engaged in discussions about the Mekedatu project with them.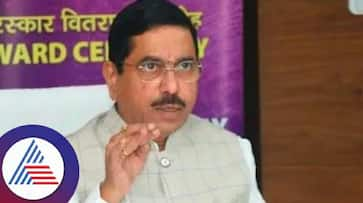 Joshi expressed frustration with the DMK's reluctance to cooperate, noting that they consistently oppose any initiatives put forth by his party. He defended the BJP's commitment to soil and water conservation, asserting that the people have lost faith in the Congress. Despite electoral setbacks in the state, he highlighted the BJP's national presence and criticized the Congress for being leaderless at the Centre.
Bengaluru: Police probe viral video claiming sexual harassment at Mall
Regarding the Mahadayi project, Joshi mentioned that the Central government has sought clarification reports from the Environment and Wildlife Board, which the state government has yet to provide. He emphasized that this delay is hindering the project's implementation and explained that the BJP government had prepared and approved a Comprehensive Detailed Report (DPR) for the project, pledging to move it forward.
Joshi also touched on crop insurance compensation and pointed out an error in the state government's 2022 report. He noted that corrections are necessary, and he has communicated with the chief secretary about this issue. He expressed concern that the state government might have colluded with private insurance companies and issued incorrect reports to the Centre. He warned of potential roadblocks and protests by the BJP across the state if a satisfactory report is not submitted promptly.
 
Last Updated Oct 30, 2023, 12:57 PM IST