Karnataka's KMDCL unveils scheme to facilitate vehicle ownership for religious minorities; check details
The Karnataka Minorities Development Corporation Limited (KMDCL) has initiated a groundbreaking scheme aimed at empowering individuals from religious minority communities in Karnataka. This innovative program offers substantial financial incentives to facilitate the purchase of auto-rickshaws, taxis, or commercial goods vehicles, thereby enhancing vehicle ownership among minority members in the state.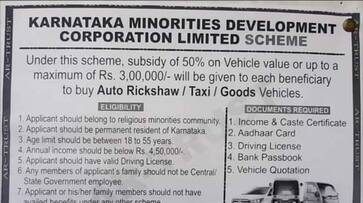 Under this scheme, eligible beneficiaries stand to receive a substantial subsidy, covering up to 50% of the vehicle's cost or a maximum of Rs. 3,00,000.
*Eligibility Criteria*
To qualify for this scheme, applicants must meet specific criteria:
1. *Religious Minority Status*: The applicant must belong to a religious minorities community.
2. *Residency*: Applicants should be permanent residents of Karnataka, ensuring the benefits are directed to the state's inhabitants.
3. *Age Requirement*: Applicants must be between 18 and 55 years old, promoting opportunities for a wide age group.
4. *Income Limit*: The annual income of the applicant should be below Rs. 4,50,000, targeting individuals who genuinely need financial assistance.
5. *Driving License*: Applicants should possess a valid driving license, a prerequisite for operating the vehicles they intend to purchase.
6. *Employment Status*: No member of the applicant's family should be employed by either the Central or State Government, reducing potential conflicts of interest.
7. *No Previous Benefits*: Neither the applicant nor their family members should have availed of similar benefits under any other KMDCL scheme (excluding the Arivu Scheme) in the past five years.
*Required Documentation*
Applicants need to prepare the following documents for a smooth application process:
1. *Income & Caste Certificate*: To verify income and minority community status.
2. *Aadhaar Card*: As a proof of identity and address.
3. *Driving License*: To demonstrate the applicant's ability to operate the vehicle.
4. *Bank Passbook*: To validate the applicant's financial status.
5. *Vehicle Quotation*: Providing a quote for the intended vehicle purchase.
*Application Deadline*
Interested individuals should take note of the impending application deadline, which is set for September 25, 2023. For further inquiries and assistance, applicants can contact the provided phone numbers: 90357 27777 and 81234 21811.
*Online Registration*
The application process has been made convenient with the option for free online registrations. Applicants can visit AR-Raheem Trust (R) Gaffariya Masjid Complex, Old Madras Road, K.R.Puram, Bangalore-36 for assistance with the application process.
This initiative by the Karnataka Minorities Development Corporation Limited aims to uplift minority communities by providing them with an opportunity to become self-reliant through the ownership of vehicles. 
By offering substantial subsidies and setting clear eligibility criteria, the scheme seeks to promote economic growth and independence among the targeted beneficiaries.
Last Updated Sep 8, 2023, 4:02 PM IST