Controversial video sparks political furor: BJP Calls for probe into Yatindra Siddaramaiah's alleged influence
In a recent video, Yatindra Siddaramaiah, son of Karnataka Chief Minister Siddaramaiah, discussed the transfer of officials, which ignited a political storm. Union Minister and BJP Rajya Sabha member Rajeev Chandrasekhar wittily remarked that 'Siddaramaiah's son holds the remote control of the government. Chandrasekhar drew parallels with the UPA era, stating, 'Just as Sonia and Rahul Gandhi wielded control then, now it's Siddaramaiah's son.'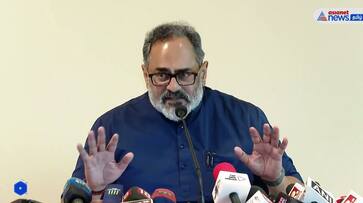 Amidst the controversy, the BJP has intensified its stance, demanding a thorough investigation into Yatindra Siddaramaiah's video. Former ministers, including R. Ashok, Dr. C. N. Ashwath Narayan, and Kota Srinivasa Pujari, voiced concerns over the alleged misuse of power. Ashok emphasised that Yatindra has been wielding authority akin to that of the Chief Minister since the Congress government's inception. The BJP insists on legal action, with calls for Chief Minister Siddaramaiah's resignation.
Also Read:Controversial video of K'taka CM Siddaramaiah's son Yathindra emerges; BJP calls it 'cash for transfer' proof

As the political drama unfolds, questions arise about the interference in the administration attributed to Yatindra Siddaramaiah. Ashwath Narayana stressed the need for immediate legal action, labelling the viral video as an example of such interference. Kota Srinivasa Pujari urged the committee led by Justice Nagmohan Das, investigating corruption cases, to also probe the Yatindra video.
Last Updated Nov 17, 2023, 12:07 PM IST