Clear forest encroachments to curb human-wildlife conflicts: Karnataka CM Siddaramaiah
Addressing the rise in human-wildlife conflicts in Karnataka, Chief Minister Siddaramaiah emphasizes clearing forest encroachments and allocates funds for railway track barriers to prevent elephant intrusions into residential areas.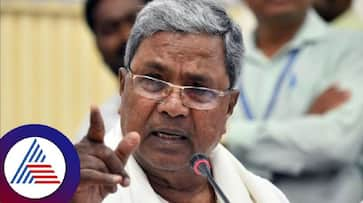 Karnataka Chief Minister Siddaramaiah has directed officials to take action against the increasing human-wildlife conflicts in the state. During a meeting with Forest Department Minister Ishwara Khandre and department officials, Siddaramaiah expressed his concern over the recent rise in conflicts between humans and wildlife.
In the past 15 days, the state has witnessed 11 fatalities caused by elephant attacks, which prompted Siddaramaiah to emphasize the urgency of the situation. He expressed concern over a tiger carrying a boy named Krishnanayak in a village in Heggadevankote taluk of the Nagarahole forest area on Monday.

Hassan: Forest guard killed while trying to help wounded wild elephant, forest dept faces flak
He expressed dissatisfaction about a recent elephant attack at Hassan, where a sharpshooter Venkatesh was killed by a Wild elephant. He questioned if the precautions were taken while treating the injured elephant. Along with this, he directed the DFO of Hassan to provide a reason and ordered the officials to issue a notice.

Mysuru: 7-year-old killed by tiger, death sparks outrage and concern
Minister Ishwara Khandre proposed allocating 100 crores to construct a railway track barrier to prevent elephants from entering residential areas. While 54 crores were already approved for this purpose, Khandre requested additional funds to extend the barriers further, as the remaining amount would only cover a 50 km stretch.
In response, Chief Minister Siddaramaiah approved the release of the outstanding 54 crores and suggested allocating a total of 154 crores to comprehensively address the issue. The meeting, attended by Deputy Chief Secretary of the Forest Department Javed Akhtar and other officials, focused on the need for scientific measures to reduce human-wildlife conflicts and clear forest encroachments.
Last Updated Sep 6, 2023, 3:10 PM IST