Bengaluru: Stray dog survey conducted by BBMP reveals 2.8 lakh dogs in the city
A recent BBMP survey in Bengaluru identified approximately 2.78 lakh stray dogs in the city, a decrease from 3.10 lakh in 2019. The survey noted that 70% of the stray dogs have been sterilized, up from 54% in 2019, as efforts continue to manage the stray dog population. The East Zone, West Zone, and South Zone have the highest stray dog populations in the city.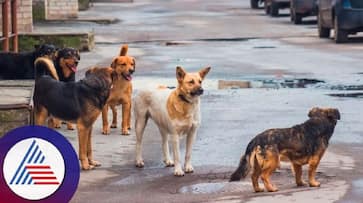 A recent survey in Bengaluru conducted by the BBMP found that there are about 2.78 lakh stray dogs in the city. This survey was done in July by the animal husbandry department of BBMP, covering all 225 areas of the city. Among these stray dogs, there are roughly 1.65 lakh males and 82,000 female dogs. The gender of the other 31,000 stray dogs is not known.
Comparing this to a similar survey in 2019, it's clear that the number of stray dogs in Bengaluru has gone down by more than 31,000 in the last four years. In 2019, the survey said there were 3.10 lakh stray dogs in the city, but the recent survey says there are 2.78 lakh.

The curious case of declining stray dog population in Bengaluru
Out of the eight zones in BBMP, it's been found that the East Zone, West Zone, and South Zone have the most stray dogs. The East Zone has the most, followed by the South Zone, and the Yelahanka Zone has the least.
One good thing about the survey is that 70% of the stray dogs in the city have been sterilized. This is up from 54% in the 2019 survey, which is a 16% increase over four years. However, 30% of the dogs still need to be sterilized, and BBMP officials plan to keep doing this to reduce the number of stray dogs in the future.
The drop in the stray dog numbers is because of a few things. BBMP has been doing things like sterilizing over 50,000 dogs and giving anti-rabies shots to 1.50 lakh dogs each year. Also, during the COVID-19 lockdown, there was a lack of food for stray dogs, which might have led to fewer puppies.
Why BBMP is tagging dogs with micro-chips in Bengaluru
This survey, which is the first in four years, was conducted with 100 people. Half of them were from the Animal Husbandry Department of the State Government, and the other half were from BBMP. They went around the city on bikes, took pictures of stray dogs with their phones, and used an app to record the data. A full report with details on how many male and female dogs there are and how many have been sterilized will come out soon, state the sources.
Gender breakdown of stray Dogs in Bengaluru:
Male Stray Dogs:
  - 2021: 1.65 lakh
  - 2019: 2.06 lakh
Female Stray Dogs:
  - 2021: 82,000
  - 2019: 1.03 lakh
Unidentified Dogs:
  - 2021: 31,000
Total Stray Dogs:
  - 2021: 2.79 lakhs
  - 2019: 3.09 lakh
Last Updated Sep 14, 2023, 4:04 PM IST