Bengaluru: QR Codes to find Ganesh Visarjan places in the city; check details
The Bengaluru City Police Commissioner, B. Dayanand, warns against unauthorized collections for Ganesha idols and related activities during the Gauri-Ganesha festival. Strict action will be taken, and guidelines for setting up idols in public areas have been provided, including the need for licenses and safety measures. The BBMP (Bruhat Bengaluru Mahanagara Palike) has set up temporary Kalyanis and discharge tankers for smooth idol disposal.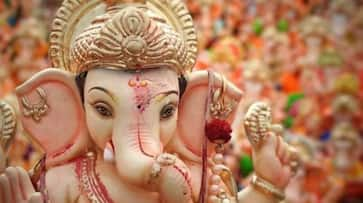 The City Police Commissioner, B. Dayanand, has issued a warning to those who try to collect money without permission in the name of setting up Ganesha idols and conducting related activities during the Gauri-Ganesha festival in public places. He says strict action will be taken against them.
As the Gauri-Ganesha festival approaches, guidelines have been given for placing Ganesha idols in public areas. It's important to make sure that this doesn't disrupt traffic or cause problems. If you want to set up temporary structures (like Pendal and Shamiyan), you need a license from the BBMP (Bruhat Bengaluru Mahanagara Palike). It's not allowed to put Ganesha idols on busy roads without permission.

Ganesh Chaturthi 2023: SWR Railway announces special trains for Karnataka
Don't place Ganeshamurthy idols in disputed places. Before you put them up, ask the owner of the property and let the local police station know. Also, have two responsible people from your group there all the time to prevent any issues and keep things safe. Also, consider installing CCTV cameras, displaying fire extinguishers, and giving contact numbers for the local police station, fire brigade, and committee office bearers at the Ganesha idol site.
Some important rules from the Corporation:
1. Don't have any cooking, wood, firewood, or kerosene equipment around the Ganesha installation spot.
2. You need permission from the BESCOM department for electricity and electric lamp decorations. You should also get a letter from the fire department and traffic police.
3. Make sure there's good lighting at the site all day and night. Plan for how people will get in and out, and set up barricades to control the crowd. Have volunteers ready.
4. If there are any crimes during the Ganesha visarjana procession, entertainment programs, parades, or visarjana events, the organizers are responsible. Keep girls safe.
5. You can only use loudspeakers from 6 a.m. to 10 p.m. if the local police say it's okay. Breaking this rule or using DJ equipment is not allowed.
6. Give the names, addresses, and phone numbers of the Chairman, Secretary, and others in the Ganeshotsav Committee to the Station Officer.
Here are some guidelines for the Visarjana Program:
1. People in the Ganesha visarjana procession should have identity cards, badges, t-shirts, or caps.
2. Let the police station know in advance if you're planning any cultural programs at the Ganesha installation site.
3. Don't use explosives, firecrackers, or camphor during the procession.
4. Make sure the Ganesh Visarjana procession is done by 10 pm. Be careful around electric wires and tree branches.
For Ganesh Chaturthi, the BBMP has set up temporary Kalyani (water bodies) and provided 418 mobile discharge tankers in 39 lake yards across the city to help with the smooth discharge of Ganesha idols. They've also put nodal officers in charge of the drainage system.

Good news for travellers: Bengaluru-Mangaluru train to extend service up to Murdeshwara
If you want discharge details, scan a QR code or visit this website: https://apps.bbmpgov.in/ganesh2023/. You can also call the BBMP helpline at 1533.
Here are the details for sewage systems in different zones:
- East Zone: 88 temporary mobile tankers, 1 temporary Kalyani
- West Zone: 6 temporary mobile tankers, 1 temporary Kalyani
- South Zone: 4 temporary mobile tankers, 2 temporary Kalyanis
- Mahadevpur Zone: 4 temporary mobile tankers, 14 temporary Kalyanis
- Dasarahalli Zone: 19 temporary mobile tankers, 1 temporary Kalyani
- Bommanahalli Zone: 5 temporary mobile tankers, 4 temporary Kalyanis
- RR City Zone: 9 temporary mobile tankers, 6 temporary Kalyanis
- Yalahanka Zone: 4 temporary mobile tankers, 10 temporary Kalyanis
- Total: 41 temporary mobile tankers, 39 temporary Kalyanis
Last Updated Sep 17, 2023, 4:48 PM IST