Ganesh Chaturthi 2023: SWR Railway announces special trains for Karnataka
As the Ganpati festival nears, Karnataka's Southwest Railway offers special trains from Bengaluru to Belgaum to ease travel during the festive rush. Efforts are also underway to introduce the Vande Bharat train service connecting Hospet, Bengaluru, Bellary, and Guntakal routes, enhancing travel options for residents and tourists in Karnataka.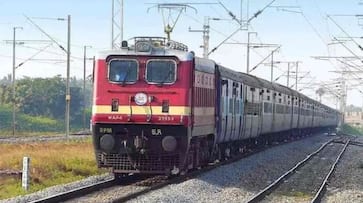 As the Ganpati festival approaches, devotees across the country are making preparations and travelling to their hometowns. Booking tickets to their hometown during the Ganpati festival week has become a challenge, with most transportation options already sold out, and some tickets even doubled in price. However, there is good news for the people of Karnataka.
The Southwest Railway has announced the operation of special trains from Bengaluru to ease the travel rush. One of these special trains will run between Yeshwantpur and Belagavi. The train from Yeshwantpur will depart on September 15 at 6:15 p.m. and follow a route through Tumkur, Arsikere, Birur, Davangere, Harihara, Hubli, and Dharwad, ultimately reaching Belgaum.

India to invest 120 billion rupees on rail link with Bhutan
On September 16, the train (Train No. 07390) will return, leaving Belgaum at 5:30 p.m. and arriving at Yesvantpur at 4:30 a.m. on September 17. Another trip from Yesvantpur to Belgaum is scheduled for September 17 at 6:15 p.m., with the return journey reaching Yeshwantpur on September 18 at 6:30 p.m.
This special train comprises a total of 18 coaches, including 2 AC two-tier coaches, 7 AC three-tier coaches, 8 sleeper class coaches, a 2nd class with luggage and brake van, and 2 disabled-friendly compartment coaches.

Indian Railways announces one more special train for passengers returning after Onam celebration
Additionally, efforts have begun to introduce the Vande Bharat train service for residents of the Hospet area. The South Western Railway Zone has initiated a review to start the prestigious Vande Bharat train service between Hospet, Bengaluru, via Bellary and Guntakal routes. They have also instructed conducting a survey and submitting a report on the availability of the required infrastructure for this train service.
In Karnataka, trains currently operate between Dharwad-Bengaluru and Mysore-Bengaluru-Chennai. Due to the positive response from passengers, the Ministry of Railways is interested in starting a train service between Bengaluru and various tourist destinations in Karnataka. This announcement will ease the travel rush for people who travel all the way from far places to their hometowns for the Ganpati festival.
Last Updated Sep 12, 2023, 9:33 AM IST