Bengaluru: Police apprehend 6 cyber criminals involved in Rs 854 crore scam
The Bengaluru Cyber Crime Police uncover a massive ₹854 crore cybercrime network, leading to the arrest of six suspects involved in cheating individuals across India through fraudulent investment schemes. Thousands of cases have been registered, and efforts continue to locate the masterminds.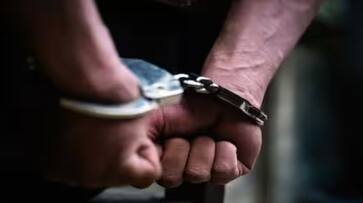 The Bengaluru Cyber Crime Police have uncovered a massive cybercrime network responsible for cheating individuals across the country of ₹854 crores. This extensive fraud scheme has resulted in the arrest of six suspects. A total of 5,013 cases related to this fraud were registered on the National Cyber Crime Reporting Portal (NCRP).
The investigation revealed that the cyber police in Bengaluru were instrumental in identifying and pursuing two cases connected to the fraud. Furthermore, 17 cases linked to this network were uncovered in the capital city. It has been established that the network's financial activities were managed from Bengaluru.

Bengaluru Traffic Police detain rider with 99 traffic violations, Rs 56,000 pending fine
The six arrested individuals, identified as Manoj alias Jack, Srinivasa, Chakradhara, Somashekhar, and Phanindra, had facilitated the transfer of the ill-gotten funds to foreign bank accounts.

Madikeri: Police apprehend gang of 14 involved in kidnapping and demanding ransom 5 lakh
Commenting on the matter, Bengaluru City Police Commissioner B. Dayanand commended the efforts of the CCB (Central Crime Branch) team in dismantling the network. This fraudulent operation had lured the public into investing money through platforms like WhatsApp and Telegram, resulting in 17 cases being registered in Bengaluru alone. The funds were subsequently funneled into various accounts.
Nationwide, a staggering 5,013 cases have been filed, encompassing transactions amounting to ₹854 crores distributed across 84 accounts. Law enforcement authorities have successfully frozen all associated bank accounts. The investigation is ongoing, with efforts underway to locate and apprehend the three masterminds behind the network.Commissioner Dayanand expressed concern for the many innocent individuals who fell victim to this widespread fraud scheme.
Last Updated Sep 30, 2023, 4:38 PM IST