Bengaluru: 25 detained for pro-Palestine protest at MG Road
Pro-Palestine Protest in MG Road Leads to Police Detentions: Bengaluru Police Commissioner Addresses the MediaIn response to Monday's pro-Palestine protest on Bengaluru's MG Road, City Police Commissioner B Dayananda on Tuesday confirmed the registration of cases against the protesters. The demonstrators had gathered to demand that India condemn the Israeli attack on Palestine.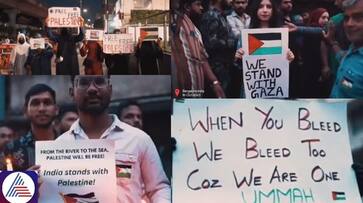 Commissioner Dayananda revealed that 25 individuals had been detained and taken into custody due to their participation in the unauthorized protest. He emphasized that the protest organizers had not obtained the necessary permission to conduct the demonstration on MG Road.
More than a hundred people took part in the protest, passionately expressing their support for Palestine and calling for India to condemn Israel's actions. The protesters, affiliated with organizations like Bahutva Karnataka and Akhil Bharat Vidyarthi Sangathan, advocated for the establishment of an independent Palestinian state.
Israel-Hamas War: It's business as usual in Jerusalem amid escalating tensions
The protest involved demonstrators forming a human chain from Kaveri Emporium Circle on Brigade Road to the Metro station's pavement, where they raised pro-Palestinian slogans. 
The activists' demands included India withdrawing its declared support for Israel and backing Palestine instead, citing concerns over the oppression of innocent people in Israel. They drew parallels to historical figures like Mahatma Gandhi, Nelson Mandela, and Jawaharlal Nehru, who supported the Palestinian cause. In contrast, Prime Minister Modi and leaders of other countries have expressed support for Israel.
The protest also emphasized the importance of distinguishing between Hamas and Palestine, highlighting that Hamas doesn't represent all of Palestine and urging global citizens to support the Palestinian cause. They expressed concern about media reports that they believed favored Israel, potentially leading to misunderstandings about the situation.
During the protest, tensions escalated, leading to an altercation between the demonstrators and the police.
As a consequence, more than 25 other individuals were detained by the authorities. The situation highlights the ongoing debate and concerns surrounding the Israel-Palestine conflict, sparking strong reactions from demonstrators in Bengaluru.
Last Updated Oct 17, 2023, 5:05 PM IST