Israel-Hamas War: It's business as usual in Jerusalem amid escalating tensions
Asianet Suvarna News Editor Ajit Hanamakkanavar reports from Jerusalem, where daily life continues despite the Israel-Hamas war. Jerusalem remains relatively calm, with no recent sirens sounding. In contrast, Gaza faces severe challenges, including food shortages, and escalating tensions in Israel involving Hezbollah, Syria, and Hamas. Efforts to evacuate residents and diplomatic discussions are ongoing amid ongoing conflicts.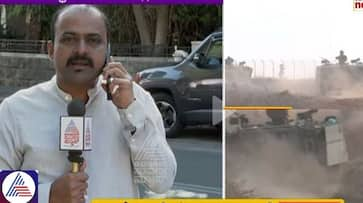 In a region already fraught with conflict, Israel is facing escalating tensions on multiple fronts, primarily involving Hezbollah, Syria, and Hamas. The situation remains fluid and concerning for both local residents and foreign citizens stranded in the country.
Asianet Suvarna News Editor Ajit Hanamakkanavar and Cameraman Mohan have arrived in Jerusalem. Despite ongoing hostilities, the city's residents continue with their daily lives, including business and travel, unaffected by the conflict. However, Jerusalem has experienced missile attacks originating from the West Bank. Hamas militants have diverted the Israeli army's attention towards the West Bank, leaving Gaza vulnerable to attacks.

Israel-Palestine War: 'It takes just 15 seconds for a Hamas missile to reach Sderot'
Approximately 500-600 Americans find themselves stranded in Israel amid the ongoing hostilities. The US government has been negotiating with Egyptian authorities to open the border with Egypt to provide these citizens with an escape route. However, as of now, the border has not yet been opened.
Israel's evacuation efforts in South Gaza
In the face of increased tensions, the Israeli army has directed residents of South Gaza to relocate to North Gaza. This evacuation process has seen multiple extensions, granting citizens additional time to leave the conflict zone.
Tensions Escalate with Hezbollah
Hezbollah, a militant group based in Lebanon, has intensified its attacks on the Israeli army. Their use of guided missiles has proven highly effective, targeting Israeli military personnel from a distance of 185 km from Jerusalem.
Hamas militants, on the other hand, have adopted a strategy of diversion, diverting Israeli attention toward the West Bank and then launching attacks on Gaza while the Israeli army was occupied with the evacuation efforts in the West Bank.

Israel-Hamas War: Inside a bomb shelter in Israel's Ashkelon
The situation in the West Bank is tense, with unrest, but it remains comparatively less affected than Gaza. Israel's military continues to pressure Lebanon to halt funding for Hezbollah, even though it is known that the group receives support from Iran.
International diplomacy
In light of the ongoing conflicts, Israel has been engaged in diplomatic discussions with Saudi Arabia after being prodded by the United States, in an effort to maintain peace. While Saudi Arabia appears to be adopting a neutral stance, most neighbouring countries maintain an antagonistic relationship with Israel.
The world watches these developments with apprehension, hoping that the situation between Israel and various groups, especially Hezbollah, Syria, and Hamas, does not escalate into a full-fledged war.

Israel-Hamas War Report: Situation in capital peaceful, Gaza rough
Life in Jerusalem
Despite the turmoil, Jerusalem, one of the world's oldest cities and a place of significance for Islam and Christianity, continues with its daily life. Citizens there, accustomed to such situations, are continuing with their routines. Reports indicate that Jerusalem remains relatively calm, with no sirens sounding since this reporter's arrival.
In stark contrast, Gaza faces severe challenges, with reports of food shortages. Israeli authorities have used tear gas to prevent Palestinians from attempting to cross the border. The situation in Tel Aviv is distinct from Jerusalem, with missiles historically originating from Gaza. However, both cities continue to grapple with the effects of the ongoing conflict, and citizens display resilience in the face of adversity.
Last Updated Oct 17, 2023, 4:51 PM IST