Bengaluru: 13 deer die at Bannerghatta National Park post death of leopard cubs, sparks outrage
Bengaluru's Bannerghatta National Park faces a tragic situation with 7 leopard cubs succumbing to Feline Pan Leukopenia, leading to 13 deer deaths in the deer safari area. Allegations arise regarding improper animal transfers and management practices. Executive Officer Surya Sen faces criticism for his statements.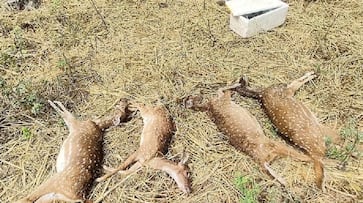 A tragic incident has come to the limelight in Bengaluru's Bannerghatta National Park, where 7 leopard cubs have died due to a contagious disease called Feline Pan Leukopenia, which cats can transmit. This tragedy has had a dire consequence, leading to the death of 13 deer in the park's deer safari area, located within the Bengaluru South assembly constituency.
The situation unfolded when 28 deers, previously located near St. John Hospital, were relocated to Bannerghatta Park due to concerns about their inadequate nutrition. Sadly, 13 of these 28 deers have already perished. Serious allegations have emerged, suggesting that these animal transfers were conducted without following proper scientific procedures. Critics argue that the animals should have been quarantined for at least a month, with careful oversight of their health, food, and medical needs.

Bengaluru's elevated corridor through Bannerghatta National Park gets Wildlife Board's approval
The cause of the deer deaths has been attributed to parasitic worms, a conclusion reached over the past week. Further investigation into this matter is deemed unnecessary. However, concerns have arisen surrounding the conduct of Executive Officer Surya Sen, who stands accused of making irresponsible statements regarding the situation. He has faced a significant backlash from animal lovers for his statement, "The deer would have died irrelevant of their location".
Bannerghatta Park, known for its diverse wildlife, has now become a cause for concern due to the perceived unscientific actions of its Executive Officer. Animal enthusiasts and advocates are fervently urging park administrators to promptly address these pressing issues and take necessary measures to protect the park's animals and birds.
Last Updated Sep 20, 2023, 2:49 PM IST