'Karnataka ready to resolve Cauvery issue outside court with PM's intervention': CM Siddaramaiah
Karnataka Chief Minister Siddaramaiah expressed willingness to resolve the Cauvery River water issue through negotiations rather than the court. He called for the Prime Minister's intervention, emphasizing water scarcity and the need for a team of experts to facilitate talks with Tamil Nadu. Siddaramaiah disagreed with criticisms of the state's decisions, citing limited water resources and accused opposition parties of politicizing the issue.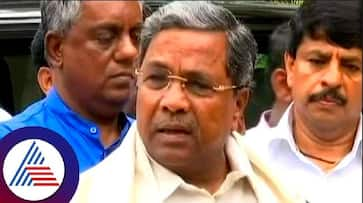 Karnataka Chief Minister Siddaramaiah expressed his willingness to resolve the Cauvery River water issue outside of the court. Speaking to reporters on Tuesday during the inauguration of the 4th round of the foot and mouth fever vaccination program, he emphasized the need for the Prime Minister's intervention in the Cauvery dispute. 
Siddaramaiah stated that Karnataka remains open to negotiations with Tamil Nadu without court intervention and called for a team of experts from the centre to facilitate discussions. He emphasized that a lack of strict formulas for water distribution creates problems during periods of low rainfall.

Bengaluru bandh: Dead rat found inside meal supplied to Police personnel
He also welcomed former Prime Minister HD Deve Gowda's letter to the Prime Minister regarding the Cauvery water issue. However, he disagreed with the assertion in the letter that the state government had not made the right decisions. Siddaramaiah explained that Karnataka faces water scarcity issues, making it challenging to meet Tamil Nadu's demands for water.

Cauvery dispute: CWRC orders Karnataka to release 3,000 cusecs of water daily to Tamil Nadu
He said, "We don't have water to spare for Tamil Nadu, and we're concerned about our own drinking water needs. Tamil Nadu is requesting water for its Kuruvai crop, but we can't meet that demand. We're facing both drought and the Cauvery water problem. While 177.25 TMC of water should be released to Tamil Nadu annually, we only have 50 TMC of water in our reservoirs."
"Opposition parties are playing politics despite knowing the reality of the Cauvery issue. While the farmer protests are justified, the BJP-JDS party is also politicizing the matter. The opposition parties, frustrated with the five guarantees given by our government, are now using the Cauvery water issue for political gain." added Siddaramaiah.
Last Updated Sep 27, 2023, 11:03 AM IST