Cauvery dispute: CWRC orders Karnataka to release 3,000 cusecs of water daily to Tamil Nadu
Karnataka faces further water release to Tamil Nadu, causing outrage during Bengaluru protests. The Cauvery Water Control Committee ordered 3,000 cusecs per day from Sept 28 to Oct 15, exacerbating water scarcity in Karnataka. The state plans to challenge the order but faces an uphill battle due to past setbacks in the dispute. Ongoing protests disrupted daily life, and the drought has left farmers concerned about crop irrigation.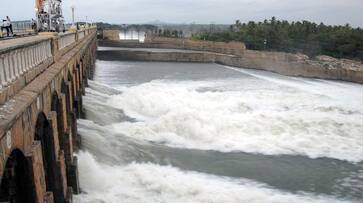 Karnataka has been directed to release 3,000 cusecs of water every day in Tamil Nadu from September 28 to October 15, which is 18 days in total. This decision has upset people in Karnataka, especially during the Bengaluru bandh protests against sending water to Tamil Nadu. 
The Cauvery Water Control Committee (CWRC) convened and issued a significant recommendation. This directive has further incensed Kannadigas, who have been protesting the earlier Supreme Court order against Karnataka. The state had witnessed outrage, leading to two bandhs, with the Bengaluru bandh occurring today and a Karnataka Bandh scheduled for Friday.

Cauvery water row: From half-naked protests to farmers' bike rally - WATCH how Bengaluru bandh panned out
The CWRC's order translates to a substantial drainage of the Kaveri River, leaving a mere 2.5 TMC of water in the reservoir. Of this, 2 TMC is unsuitable for consumption, escalating water scarcity issues in various regions, including Bengaluru, Mandya, and Ramnagar, starting in October.
Karnataka has expressed its intent to challenge the CWRC's order, but given the prior setbacks in the Kaveri River water-sharing dispute, it remains uncertain whether this move will yield significant benefits for the state. The ongoing water crisis and the drying up of the Kaveri River have put Karnataka at a disadvantage, with Tamil Nadu successfully securing drinking water for its residents through legal channels.

Protests for Cauvery water: A democratic right or challenge to the courts?
The Bengaluru bandh over the Cauvery dispute has been successful. Various Pro-Kannada organisations as well as members of farmers' associations protested against the CWRC's directives to release 5,000 cusecs of water, daily to Tamil Nadu. However, the recent order of the Supreme Court had led the citizens of Karnataka, to boil with rage, as the court said it could not intervene between the two states and issued CWRC's order. 
The ongoing protests in Bengaluru caused disruptions to the normal life of the citizens. Several shops and malls were closed in Bengaluru in support of the Cauvery struggle. Over 200 protestors were detained during the protests. The busiest streets in Bengaluru were empty, with rare commuters. In addition to the issues faced by Karnataka, the drought situation has led the farmers concerned about supplying water to the crops. The Cauvery River, which supplies drinking water to Bengaluru, has been sharing water with Tamil Nadu, which has been a primary concern for the state. 
Last Updated Sep 26, 2023, 3:50 PM IST