ISL 2022-23: Coach Boothroyd delighted after Jamshedpur FC end 10-game winless streak
Goals from Harry Sawyer and Ritwik Das helped Jamshedpur FC come from behind against East Bengal FC on Friday to clinch their first win in ten games in ISL 2022-23.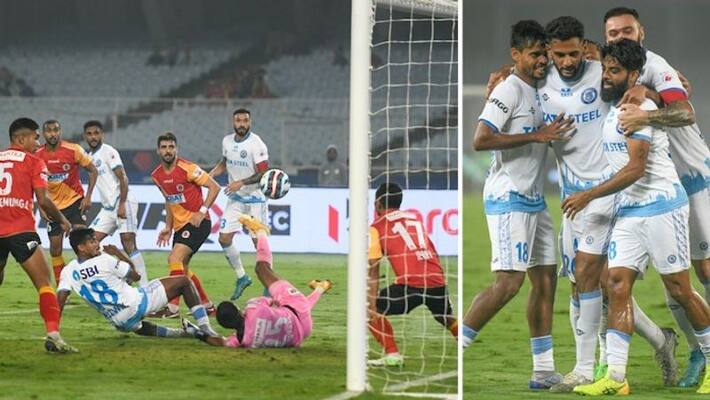 Goals from Harry Sawyer and Ritwik Das helped Jamshedpur FC come from behind against East Bengal FC on Friday to clinch their first win in ten games in this edition of the Indian Super League (ISL) 2022-23 at the Vivekananda Yuba Bharati Krirangan in Kolkata. 
Cleiton Silva had put the Torch Bearers ahead in the first half with his ninth goal of the season before the home team let the lead slip this season, along with a chance to go clear of Bengaluru FC in the playoff qualification race with a game in hand.
Also read: ISL 2022-23: Bengaluru FC seek playoffs relevance as Odisha FC look at steering ahead on the table
Following this win, Jamshedpur FC head coach Aidy Boothroyd expressed delight and opened up on how his team overcame a rough patch to achieve a well-deserved victory.
"When you're in this job, when you win, it's great. And when you don't win, it's difficult. So we've been in a difficult situation for a few weeks now, I know how Stephen (Constantine) feels today. But I thought we were well worth our win. I thought we were excellent. Particularly in the second half, the first half was a bit shaky for both teams, but in the second half, we went to try and win the game. And thankfully, we managed to do that. Extremely happy despite the face," Boothroyd stated in the official post-match press conference.
After East Bengal FC got the lead in the first half, the Red Miners fell behind and tried multiple times to break through the opponent's defence without success. The Englishman emphasised how the substitutions increased everyone on the field's confidence, which contributed to the team's success.
"We had to do something different. I think what we were doing in the first half, we didn't have enough confidence. Three substitutions, that's the reason that we have three substitutions and five substitutions is because you can come on to the game, and sometimes they make a difference for the good. Sometimes they make a difference for the not good. But all three substitutions were excellent, did incredibly well. So (I'm) extremely happy with them," Boothroyd said.
Rafael Crivellaro, the team's recent acquisition, has been a tremendous source of creative energy, producing more opportunities with each game that goes by and contributing an assist. The 51-year-old explained that the club required a change of dynamic in the final third when asked why goal scorer Harry Sawyer was not included in the starting lineup.
"What I try to do is that I get Crivellaro more involved in the game. He's our most creative player. So we try to get him on the ball. Sometimes the opposition obviously chose to stop him. So sometimes within drifting in different places, different pockets of space, he allows other players to make runs off him. And we didn't quite do that. until I made the change. So I'm pleased," Jamshedpur FC's coach added.
Also read: ISL 2022-23: Fireworks on the cards as heavyweights ATK Mohun Bagan face the might of Mumbai City FC
Ritwik Das, who led all Indian scorers under former head coach Owen Coyle last season, has discovered his shooting boots and is currently the team's joint-leading scorer this year with three goals. Boothroyd added his thoughts on Das' goal and recent scoring trends.
"I can't believe he scored a header at the far post. I thought it was a brilliant ball and a wonderful finish. Brave header. He got two in the last game, one in this game. So he's the joint top-scorer at the moment, so I'm really pleased with his contributions," he said.
By winning the league last year, the current holders of the Hero ISL Shield earned a spot in the AFC Champions League. The club's focus is on the current season, not what lies ahead, according to the head coach, who also stated how his team is developing despite key players missing games.
"A cup run would be lovely. I think we're concerned about small steps. So (to) build on tonight's game, we know the upcoming games are all against difficult opponents. But I know what the best team is if everybody's fit. Unfortunately, we've not had everybody fit. We've lost some key players in key positions, in key parts of the season, the early part of the season for definite. So, it's making sure that I'll have a look at all the wounded, see how they are, and pick a match fit team for the next game. We'll not worry too far ahead just yet," he concluded.
East Bengal FC remain in ninth place, still a point behind Bengaluru FC with a game in hand. The Torch Bearers will host Hyderabad FC next on January 20, Friday. Jamshedpur FC also stay in tenth place, but they have cut the deficit between them and East Bengal FC to three points now. The Red Miners will host Bengaluru FC next on January 18, Thursday.
Last Updated Jan 14, 2023, 11:28 AM IST