Viral video: Jaipur man dressed in 'Money Heist' costume showers money in air
A video shows a man standing on top of a car and showering currency notes on the public. The video shows the unidentified man dressed as a 'Money Heist' character and he is tossing money into the air as people desperately collect notes.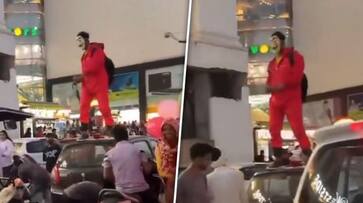 Jaipur went through its Money Heist moment as a man recently showered real Rs 20 notes on a busy road. The unidentified man got dressed identically to the characters of Money Heist wearing a red jumpsuit and a Salvador Dali mask on his face.
The incident was captured by various passersby as the man threw Rs 20 notes causing a temporary traffic jam on a busy road in Malviya Nagar. The accused borrowed a car from his father and performed the stunt in front of Gaurav Tower, a popular mall in Jaipur's Malviya Nagar area.
He got on the rooftop of the car and showered Rs 20 notes as passersby rushed to collect the notes from the air and the ground. The accused tried to enact a popular scene from the Netflix series Money Heist. 'Money Heist' is one of the most popular series around the world for its uncanny script and characters.
The video of the act quickly went viral, especially in Jaipur, Rajasthan. Authorities quickly responded to the incident by identifying the man and nabbing him right away for causing a disturbance on the busy road. The Deputy Commissioner of Police (DCP) East, Jnanachand Yadav made the arrest public by revealing that the individual was arrested by the Jawahar Circle Police Station.
An investigation is launched by the Police officials and they are interrogating the accused behind the act. According to a report from India Today, the individual who showered money said that he did it for fun. However, the incident has landed the man in legal ramifications.
A similar incident took place in Bengaluru early this year. An unidentified individual showered Rs 10 notes on a busy stretch in the KR market. Identical to the Jaipur incident, people on the road rushed to pick up the notes which caused massive traffic jams on the stretch. The accused was not found by the Bengaluru Police after a thorough investigation.
Last Updated Oct 3, 2023, 6:49 PM IST