Two terror incidents in Jammu; 7 armymen, 6 terrorists killed
An armed stand-off involved a hostage-like situation with 12 soldiers, two ladies and two children were held captive
Terror incidents in Jammu came on a day Gen Qamar Javed Bajwa took over as Chief of Pakistan Army
Among the soldiers who died was a Major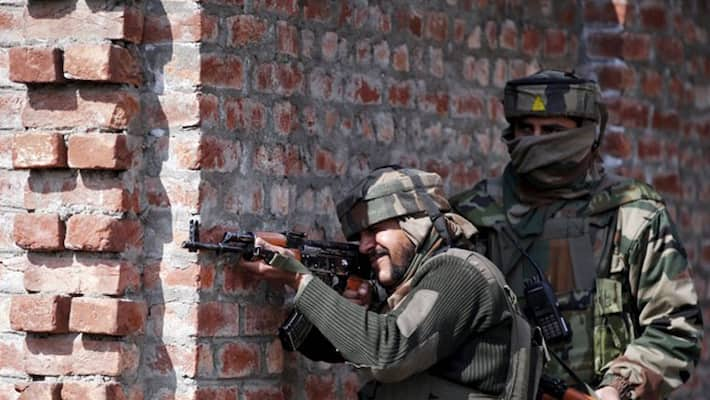 In one incident, a group of heavily-armed terrorists in police uniform stormed an army unit in Nagrota, about three kms from the Corps headquarters on the outskirts of Jammu city this morning, triggering an intense gun battle that lasted for hours.
Seven army personnel, including two officers, were killed in this attack before three terrorists were killed in an armed stand-off which also involved a hostage-like situation with 12 soldiers, two ladies and two children being held captive. All were rescued, army spokesman said.
Three terrorists were gunned down by BSF in Ramgarh area of Samba near the International Border after an encounter that lasted several hours and was followed by intense cross-border firing by Pakistani troops. Four security personnel, including BSF DIG, were injured in this incident.
The two terror incidents in Jammu came on a day Gen Qamar Javed Bajwa took over as Chief of Pakistan Army from Gen Raheel Shareef.
Giving details of the Nagrota attack, army spokesman said in the early hours of Tuesday, a group of heavily-armed terrorists, disguised in police uniform, targeted the army unit located three kms from the Corps Headquarters.
"The terrorists forced their entry into the Officers' Mess complex by throwing grenades and firing at the sentries," the spokesman said.
"In the initial counter action, one officer and three soldiers of the army were martyred," he added.
The terrorists entered two buildings which were occupied by officers, families and men, which "led to a hostage-like situation", he said.
"The situation was very quickly contained and thereafter, in a deliberate operation, all were successfully rescued, which included 12 soldiers, two ladies and two children," the spokesman said.
"However, in this rescue attempt, one more officer and two jawans sacrificed their lives," he added.
In the gunbattle, three terrorists were killed. "Bodies of three terrorists have been recovered and operations are in progress to santise the complete area," the spokesman said.
Among the soldiers who died was a Major.
In the wake of the terror attack on 166 Artillery unit of the army, the Jammu-Srinagar National Highway was closed for traffic in the area and was reopened this evening.
The unit is located about 3 kms from Army's 16 Corps which oversees all military operations in Jammu region. The district administration has closed all schools in Nagorta tehsil as a precautionary measure.
"We have ordered closure of all schools and education institutions in Nagrota tehsil in view of the terror attack," Deputy Commissioner, Jammu, Simrandeep Singh said.
Separately, at around the same time, BSF personnel in Ramgarh area of Samba were engaging three terrorists who were trying to infiltrate from Pakistan.
BSF said it detected suspicious movement of three persons late last night and a quick reaction team of the force swung into action, laying cordon in the area.
"On realising that they have been trapped, the militants started firing automatic weapons and lobbing grenades on the BSF troops.
"Unable to move further, the militants got holed up in a nearby tube well hut. Taking advantage of the cover, they kept firing intermittently till the day break. The area was kept under intense surveillance by the troops deployed awaiting day break," the BSF said in a statement.
At daybreak, the BSF personnel "made their move and with precise and stable fire, neutralised the three militants quickly," it said, adding one constable Shyamal Ahirwar sustained bullet injury in his wrist.
Throughout the morning hours, Pakistan kept firing intermittently to provide cover to the militants, it said.
In the ensuing events, BSF's Jammu DIG B S Kasana, Inspector Sarabjit Singh of India Reserve Battalion and constable Vaibhav of BSF sustained injuries, it said.
All the injured were immediately evacuated to military hospital and were reported to be stable, the statement said.
18 magazines, 25 live grenades, three IED waist belts, five chain IEDs (used to blow up railway tracks) and a wireless set were recovered from the slain terrorists.
"Had BSF not successfully contained and eliminated the terrorists, they could have caused massive damage in the mainland. It was only because of BSF's multi-tier security cover that this calamity was averted effectively," BSF spokesman said.
The area is being sanitised.
Last Updated Mar 31, 2018, 6:51 PM IST