Real reason why Puducherry's lone woman MLA quit AINRC-BJP govt
S Chandira Priyanga, the only woman legislator and minister in Puducherry, has resigned from her position within the AINRC-BJP coalition cabinet, citing various issues including political conspiracies, the influence of money in politics, casteism, and gender bias.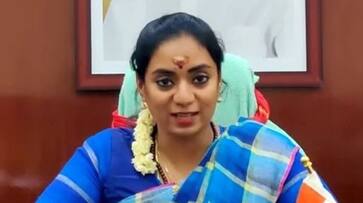 S Chandira Priyanga, the sole female legislator and minister in Puducherry, has taken the decision to resign from her position in the AINRC-BJP coalition cabinet. Her resignation is primarily attributed to her allegations of encountering political conspiracies, the influence of money, as well as facing casteism and gender bias within the political landscape. While this move garnered significant attention, Chief Minister N Rangasamy chose not to provide any comments on Priyanga's decision.
Chandira Priyanga, representing the Neduncadu reserved constituency in Karaikal, made history in 2021 by becoming the first woman to be appointed as a minister in the union territory after a gap of over four decades. During her tenure, she held the significant Transport portfolio within the N. Rangasamy-led coalition cabinet. Her election to the legislative assembly in 2021 occurred on an AINRC ticket, securing a consecutive term in office.
The formal resignation as Minister was conveyed through her Secretary at the office of the Chief Minister, and official sources within the Chief Minister's Office confirmed the receipt of the letter. It has since been forwarded to the Chief Minister, who will make the final decision regarding her resignation. Copies of the resignation letter were also disseminated to the media.
In her resignation letter, Priyanga reflected on her initial entry into the legislative assembly, fueled by her popularity among her constituency's people. However, she soon realized the formidable challenges posed by the "politics of conspiracy" and her inability to confront the overwhelming influence of money within the political sphere. 
Additionally, she cited her experience of being subjected to casteism and gender bias as contributing factors to her decision.
Priyanga expressed her intention to release a comprehensive report highlighting the changes, improvements, and reforms she had instituted during her tenure as Minister, notably in her management of the Housing and Labour and Employment portfolios. 
She conveyed her gratitude to her constituents and assured them of her continued dedication to serving as their legislator.
Moreover, Priyanga called upon Chief Minister Rangasamy to consider appointing a successor from either the Vanniyar, Dalit, or minority communities, emphasizing the importance of equity and welfare measures within her constituency. 
She discouraged the selection of a successor based on monetary power or influence, as it could potentially lead to injustice against the Vanniyar or Dalit communities.
Lastly, she urged the Chief Minister to ensure the seamless implementation of all government welfare measures within her constituency. Copies of her resignation letter were also transmitted to the office of the Lieutenant Governor, Tamilisai Soundararajan, who was reported to be in Telangana at the time.
Last Updated Oct 10, 2023, 7:00 PM IST