Puthuppally byelection result 2023: 'Victory of my father...' UDF's Chandy Oommen responds to media
UDF candidate Chandy Oommen has secured an emphatic victory in the Puthuppally byelection, the counting of votes for which was undertaken on Friday morning (Sep 8). Chandy Oommen has responded to media by saying that the by-election victory is considered Oommen Chandy's 13th victory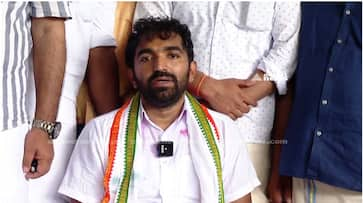 Kottayam: The United Democratic Front (UDF) has secured an emphatic victory in the Puthuppally byelection, the counting of votes for which was undertaken on Friday morning (Sep 8). With this, the UDF has retained the seat vacated due to the untimely demise of former MLA Ommen Chandy. UDF's Chandy Oommen, LDF candidate Jaick C. Thomas, and BJP's G. Lijin Lal were contesting the byelection. As per the latest figures, Chandy Oommen won by a majority of 36454 votes.
The largest victory margin in Puthuppally for Oommen Chandy was in 2011, when he defeated CPM candidate Suja Susan George by a margin of 33,255 votes.
Chandy Oommen has responded to the media after winning the historic win by saying that " The by-election victory is considered Oommen Chandy's 13th victory. This is the victory of those who loved his father. The trust reposed in me will not be violated."
He continied "I will also be with Puthupally for development continuity. The event ends here with immense love and support from the people of Puthupally. Let's work for Puthupally together. Those who voted for me and those who didn't are the same for me. Let's work together as one. This is the love my father has gained over 53 years, and I will fulfil all my responsibilities with all my support. My party will always work for the development of Puthupally and will ensure a good living environment here."
He then thanked Sonia Gandhi and Rahul Gandhi for extending their support throughout the journey. He thus thanked Congress President Mallikarjun Kharge for his guidance and support throughout the journey.
He then thanked each of the leaders by name. He first thanked A.K. Antony for the support given to his father, family, and him since the beginning of the election. He thanked all congress member leaders and youth congress members for being extremely active in the Puthupally election. He also thanked K.C. Venugopalan for all the support he gave during the convention programme and party events and V.D. Satheeshan for supporting and giving  confidence throughout this journey.
Chandy alleged that he and his party members were attacked by the CPM workers when they were leaving the Manarcadu temple this morning. He said that the CPM has not responded to the incident, however, Congress will seek legal action against the attack.
Lastly, he thanked all the members who were directly or indirectly involved in the Puthupally election. He thus ended by thanking K. Muraleedharana and Padmaja Venugopal for their support.
Last Updated Sep 8, 2023, 1:56 PM IST