Pak cricketers safer in India than Pak...' MoS Rajeev Chandrasekhar slams fake news over Bengaluru cafe fire
Union Minister Rajiv Chandrasekhar responded to the misrepresentation of a fire incident in Bengaluru, where a café was gutted, falsely portrayed as a bomb blast by some Pakistani journalists. Chandrasekhar criticized those twisting news, asserting that Pakistani cricketers are safer in India. The incident sparked a debate about fair reporting and security for the World Cup.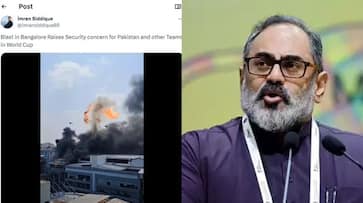 Union Minister Rajeev Chandrasekhar has responded to the misrepresentation of a fire incident in Koramangala, Bengaluru, where Mudpipe Cafe was completely gutted by a massive fire. The incident resulted in videos of the fire going viral on social media. However, some Pakistani journalists have portrayed it as a bomb blast, leading to security concerns in the wake of Pakistan's World Cup match against Australia at Chinnaswamy Stadium in Bengaluru.
Imran Siddiqui, a sports reporter at Pakistan's Dawn newspaper, shared the video of the incident on social media, expressing concerns about the explosion in Bengaluru and its impact on security for Pakistan and other teams at the World Cup.

Failure is the stepping stone to success: MoS Rajeev Chandrasekhar at MIT Tech Tattva '23
In response to these misrepresentations, Minister Rajiv Chandrasekhar criticized those who seem eager to twist any news from India into an opportunity to celebrate and create false narratives. He stated, "Pakistani cricketers are probably safer in India than in Pakistan" and added the hashtag "Jokers of Pakistan."

'Shocking & shameful...' MoS Rajeev Chandrasekhar on Mahua Moitra 'Cash For Questions' controversy
He quoted, "There's a remarkable consistency in how some Pakistanis embarrass themselves as world-class clowns (not the circus type either). Desperate to see it.. any bad news from India - for them a cylinder explosion in a restaurant is also an occasion to celebrate & gloat 😅😆🤣. Pakistan Cricketers are probably safer in India than in Pakistan itself 🤣"
While many people echoed his sentiments, suggesting that Pakistani players should be safely returned home after the World Cup, others emphasized the need for fair reporting and criticized the misrepresentation of events.
Last Updated Oct 19, 2023, 10:04 AM IST